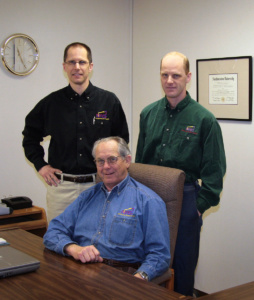 Mississippi Welders Supply Company was founded in 1939 in Mondovi, Wisconsin, as Mississippi Welders & Auto Supply. The company had a network of dedicated driver-salespeople that served customers in southeastern Minnesota, western Wisconsin and northeastern Iowa. With so much territory to cover, the company expanded to include a Winona, Minnesota store in 1966, which today serves as the company headquarters.
Don Peterson began his career in the industry working for Airco in 1960, calling on distributors in the Midwest. In 1973, the opportunity arose for Don to purchase Mississippi Welders Supply. Don purchased the business with two partners, who were later bought out, leaving the business in Peterson's hands.
"The company has been in our family for 46 years," says Brad Peterson, chairman and chief acquisition officer. "I grew up in the business." After graduating from college, Brad spent eight years in the Navy before joining the company in 1991.
When Don purchased the company, it had one location and six employees. Today, Mississippi Welders Supply Company has grown to 11 locations and 175 employees.
"We always focus on customer service and taking care of the customer," says Brad. "When you take care of customers, they recommend you to other prospects and potential customers. It just keeps growing."
The growth has been almost entirely organic. The company has done no acquisitions of welding distributors but has acquired three small fire extinguisher companies and two beverage CO2 companies.
Since 1939, this second-generation family-owned business has maintained a tradition of healthy growth in services offered, product lines carried, and customers satisfied. Today, as always, the first priority is providing top quality services and products to its valued customers.
To commemorate the milestone, the company designed an 80th anniversary logo, has done an extensive social media campaign, and hosted a large company picnic.
Says Brad, "Our goal has always been and remains to help the customer be more safe, more efficient and more profitable."
For more great content like this, sign up to receive the GAWDA Connection, which goes out on the 1st and 15th of every month. Click here to see a recent issue of the GAWDA Connection.