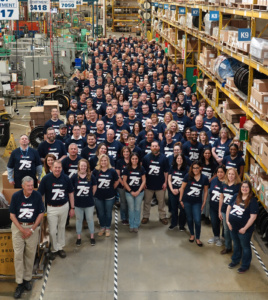 Weiler Abrasives was founded by Karl E. Weiler in 1944 as the Weiler Brush Company in Long Island. Weiler began the company with just $50 and a dream. Now, 75 years later, the Weiler Abrasives Group has grown from a small jewelry polishing brush business into a global abrasives leader with 1,300 employees across eight different countries.
But even as the company has grown by leaps and bounds, it remains true to its original key values: integrity, customer focus, accountability, learning and competence, and passion.
Today, Weiler continues as a fourth-generation privately owned company under the leadership of CEO Chris Weiler. Karl M. Weiler serves as chairman. The company has moved its headquarters from Long Island to its current location in Cresco, Pennsylvania.
"We are proud of the growth Weiler Abrasives has undergone in its 75 years in business and the innovation it brings to the marketplace," says Chris. "The hard work of our employees, our customers' loyalty and the support of our community have been the backbone of our success."
Customer loyalty is something that Weiler has made a top priority in its history. It's such an important aspect of Weiler's success that after 75 years, the company is still in business with its first customer.
To celebrate this milestone anniversary, Weiler kicked off a months-long celebration with its national sales meeting the week of April 22. The celebration is geared toward its customers, coworkers and community to thank them for contributing to the growth and longevity of the company. The company will be offering a variety of promotions for customers in the coming months and will also be holding a host of employee activities, including a family fall harvest celebration in October at its headquarters. Weiler will also be organizing several activities to engage the community in its celebration.
For more great content like this, sign up to receive the GAWDA Connection, which goes out on the 1st and 15th of every month. Click here to see a recent issue of the GAWDA Connection.