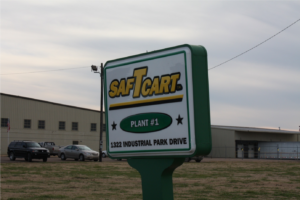 The history of Saf-T-Cart can be traced back to April 1, 1969, when Jimmy Walker, Sr. opened Walker Welders in Clarksdale, Mississippi. While Walker Welders grew and expanded, Walker saw a need in the industry for a self-contained oxy/acetylene unit with the gauges completely enclosed. However, Walker was unable to find manufacturers to produce the cart, so he decided to buy used equipment from local auctions and build them himself. With that, in 1986, Saf-T-Cart was born.
"Saf-T-Cart really grew out of Walker Welders," says Jim Herring, vice president of Saf-T-Cart. "Part of the reason for it was that the Mississippi Delta is very dependent on agriculture to drive business. If farmers are having a down year, it affects the entire region. The carts were kind of farmer-proof in that they weren't dependent on the agriculture industry to drive sales."
The first Saf-T-Cart factory was built in Dublin, Mississippi in an abandoned school that Walker bought and converted, eight miles to the south of the Walker Welders facility.
"By 1997, we had maxed out our space in the school, so we purchased property directly across the street from the original site of the first Walker Welders," says Herring. "The joke at the time was that the space was so large that we might have to rent some of it out. We ended up adding onto it five times."
Around that time, in April 1997, Walker sold Walker Welders to Holox, but retained ownership of its eight locations. Today, Saf-T-Cart has 106 employees in Clarksdale, sells into all 50 states, Canada, Latin America and beyond, and operates out of a 100,000 sq. ft. manufacturing facility that was purchased in 2005.
While it has steadily grown from the days of Jimmy Sr. buying parts at auction to manufacture the carts himself, the company remains very family oriented. Jimmy Sr. remains the CEO, while his son, Jimmy Walker, Jr. is the president. Herring, who married Jimmy Sr.'s daughter, Melinda, is the company vice president and Lesa Parks and Charlie Walker are both VP of Sales. The third generation of Walkers is now working in the business as well.
Says Herring, "We do what we say and we say what we do. If you ask anybody in our plant who they work for, the answer is the customer. That has always been our mindset. There is no voicemail in Clarksdale. When you call our facility, you are going to speak directly to a person. That's how we do business."
For more great content like this, sign up to receive the GAWDA Connection, which goes out on the 1st and 15th of every month. Click here to see a recent issue of the GAWDA Connection.