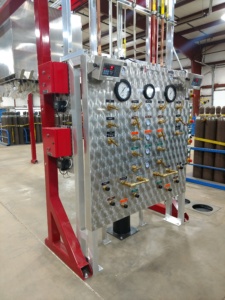 Veite Cryogenic Equipment and Service was founded by Harry and Jim Veite in 1969. The company, formerly known as Cryogenic Equipment and Service, serves the U.S., Mexico and Canada from its 14,000 sq. ft. facility in North Ridgeville, Ohio.
In 1969, distributors would typically lease fill plant equipment from their gas suppliers. Because of this, there was no incentive to upgrade equipment and no competitive element to gas pricing. The Veite brothers demonstrated to distributors how to increase profits by installing modern filling systems and the benefits that came from owning their own equipment rather than leasing it.
That commitment to quality and efficiency has driven the company for half a century, as Veite has always operated by the golden rule: to treat employees, customers and suppliers as they would like to be treated.
The Veite family remains heavily involved in the business today, with Jim's son, Mike Veite, serving as president, and James Harris, Jim's nephew, serving as vice president. James Veite Jr. serves as treasurer, while Mark Veite, Harry's son, is a lead fill plant designer.
Cumulatively, the Veite staff has more than 100 years of experience in the cryogenic and high pressure industrial and medical gas industries.
"The flexibility and knowledge of our staff are our strongest assets," said Jim Veite. "Our customers may work with one technician on a small project, but they know that the entire team is ready to jump on the project, if that's what it takes to get the job done. We place a lot of confidence and trust in our employees and provide them with extensive training to accommodate the heavy workload."
For more great content like this, sign up to receive the GAWDA Connection, which goes out on the 1st and 15th of every month. Click here to see a recent issue of the GAWDA Connection.