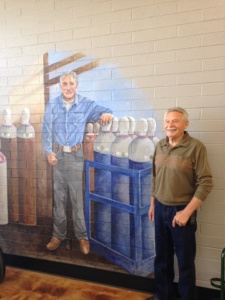 Vern Lewis Welding Supply Inc. was founded in 1969 by Vernon F. Lewis. Prior to opening the company, Lewis served as a district manager for Forney Industries. The company began with Vern selling welders and Lincoln welding rods to farmers and welders in Avondale, Arizona and the surrounding west valley.
He later added a business associate, Ron Ruch Sr.  Ruch Sr. has since started his own welding supply distribution business, but Vern and Ron remain close associates after all this time.
From a store front in Avondale and a warehouse in Phoenix, Vern Lewis Welding Supply has since expanded to seven Arizona locations, approximately 75 employees, a centralized distribution center with repair facility, industrial gas fill plant, welding training lab and four valley-wide route trucks, along with a variety of delivery trucks to service the valley.
While Vern, who is now 83 years old, remains active in the business, the company is currently being run by his eldest daughter, Stacy Lewis Hayes. The company operates under her direction along with a management team, including General Manager and Partial Owner John K. Bone and Partial Owner Carol A. Arnold. Vern attributes the growth of the company in part to Bone's vision and leadership. The company has a strong family culture and believes in participating in the community and industry throughout the country. The company holds memberships to GAWDA, IWDC, and AWS, as well as several local chambers of commerce. Along with community involvement, the company has recently become a member of the NWBOC.
To celebrate its 50th anniversary, the company will be honoring both employees and long-term customers alike. There was a weekend long company camping trip in northern Arizona for employees and their families. The company will also be honoring customers with custom statues that will serve as a reminder of the foundation and success… the customers! The statues were fabricated and designed by employees and will be personally delivered to customers. There will also be several customer appreciation events throughout the year.
For more great content like this, sign up to receive the GAWDA Connection, which goes out on the 1st and 15th of every month. Click here to see a recent issue of the GAWDA Connection.