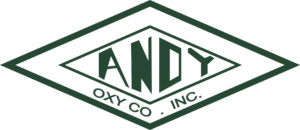 The Andy Oxy Company was found-ed in 1946 in Hendersonville, North Carolina, by W.S. Anderson. The company began as a welding and radiator repair shop called Hendersonville Welding Company with welding supplies sold, initially, to supplement the welding and radiator repair shop. However, by 1960, demand for welding supplies began to dominate the business and the company made the decision to close the radiator/welding shop and devote all its efforts to the welding supply segment. In conjunction with this change, the company changed its name to Andy Oxy Co., Inc., which was derived from Anderson Oxygen.
In 1970, under the direction of Bill Anderson and Jim Anderson (now re-tired), the company opened its Asheville, North Carolina, branch, which quickly outpaced the original Hendersonville location in sales. In 1974, the Asheville branch moved to its current location and became the corporate headquarters, adding a central, high pressure fill-plant facility. Over the years, the company would add an additional three locations, for a total of five. Today, the company is transitioning into its fourth generation of leadership and has 48 employees.
"At Andy Oxy, our goal is to maximize profitability and sustainable growth by ensuring our customers are supplied the highest quality products and services to fulfill their needs from a highly trained, customer-service oriented work-force," says Vice President and General Manager Britt Lovin. "Adhering to this mission, allows other positive aspects to fall into place, such as ability to provide valuable and essential benefits to our employees and contributing financially and through employment, to the communities in which we operate."
In recent years, Andy Oxy has been focused on changes to the "pace" of work.
"In today's quick, web-based answer world, we acknowledge a customer's time is valuable and respond very quickly to their needs," Lovin says. "We have adapted to the changing customer relationship by becoming service oriented. We work very hard on providing exceptional delivery times, answering questions quickly and providing value-based options."