New Family, Same Family Values
How Maine Oxy continues its march towards 100 years
By Steve Guglielmo
Maine Oxy-Acetylene Supply Company was established in 1929 in Auburn, Maine, by Joseph W. Albiston. Originally named Maine Gas Service, the company has always been dedicated to providing quality products at competitive prices. For three generations, the Albiston family operated Maine Gas (renamed Maine Oxy-Acetylene Supply Company or Maine Oxy for short in 1935) as an independent distributor built on the foundations of being family-owned and operated.
Through its nearly a century of existence, the company has been front-and-center for some of the world's most defining events. And, on a smaller scale, the company has been a part of some of our industry's most important events too. J.W. Albiston was a charter member of the NWSA and Maine Oxy was one of the 12 distributors present at the inaugural NWSA charter meeting in Dayton, Ohio, at the Hotel Van Cleve on November 13, 1945.
Though the company and the industry have undergone a massive transformation in the 78 years since that meeting, both GAWDA and Maine Oxy continue to serve the same mission that they were founded on.
Milestone Moments
Though it continues to operate on the same founding tenets that J.W. instilled in the company in 1929, Maine Oxy has seen robust growth over the past 94 years. Today, Maine Oxy has more than 200 employees in its 18 branches throughout New England.
In 1993, Maine Oxy established its SpecAir division. The SpecAir gas manufacturing laboratory, located in Auburn, Maine, is the largest independent specialty gas laboratory in New England and is also an ISO/IEC 17025:2005 accredited laboratory and production facility. SpecAir has also introduced the Enviro-Cyl line of environmentally friendly refillable products, leading the industry in replacing disposable calibration gas cylinders with refillables.
The company also has expanded its welder rental and services division, now renting MIG, TIG, Stick, plasma and portable gas and diesel welder generators.
In October 2012, the Albiston family sold the business to JWK Trust and Dan Guerin. During this time, Maine Oxy executed multiple acquisitions and expansions. The company expanded into New Hampshire by acquiring Twin States Welding Supply in Lebanon, NH. It continued its southern expansion by moving into Connecticut, with the acquisition of Industrial Welding Supply. In 2016, Maine Oxy acquired Lynox Welding Supply in Northern Maine.
Today, it operates 18 branches throughout New England serving states including: Maine, Vermont, Rhode Island, New York, New Hampshire, Connecticut, Massachusetts and its newest location in Orlando, Florida.
Through it all, the company has continually adapted to the changing customer and technology needs of its customers. Former President and CEO Dan Guerin said, during the company's 90th Anniversary celebration in 2019, "Technology has been the biggest change from when we started. Not just for us but for all businesses. That's why we're always looking for ways to improve what we do, which helps save time and money for us, as well as for our valued customers."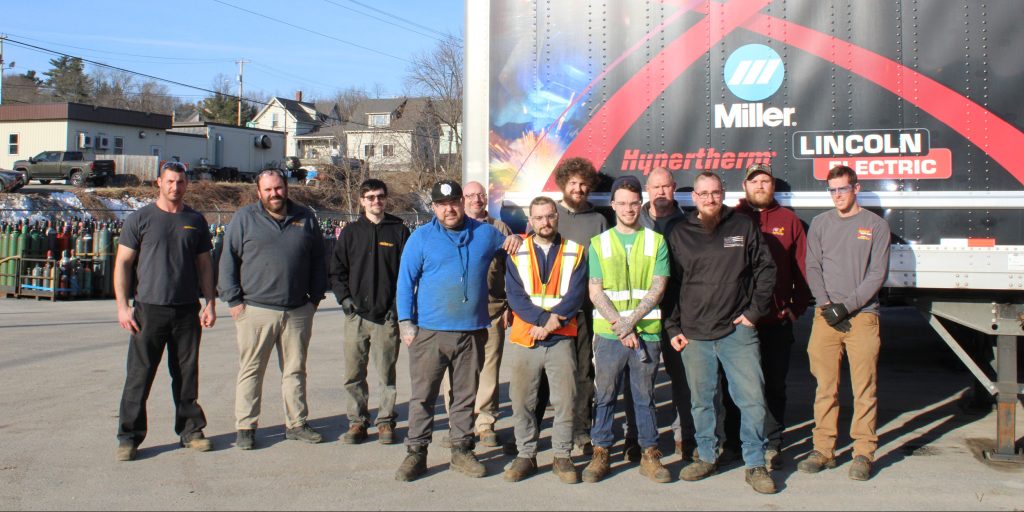 A New Era for Maine Oxy
October 2022 marked the dawn of a new era for Maine Oxy. Dan Guerin, who had operated as Maine Oxy's President and CEO since buying the company in October 2012, officially retired on October 1, 2022, and sold his shares to the Gentry Family. Succeeding Guerin as President is William Gentry. Kelly Gentry oversees Human Resources, Productivity, and Safety. Jason Gentry will oversee the company's real estate group and assist in the Finance department. Chris Campbell will continue in his role as CFO, while adding additional leadership responsibility.
"The Albistons operated Maine Oxy for three generations with a family atmosphere," Kelly Gentry says. "We definitely want to continue to foster that locally owned and family-operated feel. It's important for us to foster open communication and collaboration. Really emphasizing employee empowerment and continuing that family-owned atmosphere and culture that had been in place from the beginning was very important to the individuals in this area."
In addition to the change of the company's executive leadership, Larry Bates retired after 35 years as Operations Manager, succeeded by Wendy Rosado, and George Lyon retired as head of Engineering and Bulk Installation after more than 30 years, replaced by Lawrence Grant.
All of these changes position Maine Oxy for its next phase of growth as it closes in on its 100-year anniversary.
"We wanted to ensure a proper transition," says Kelly Gentry. "When these leaders of the company began to consider retiring, we sat down to figure out what the moving pieces were and how we could strategically hire both from within the industry and from outside the industry. This allowed us to bring a new perspective in but also to retain that industry knowledge."
She continued, "We strategically hired at least 90 days before critical outgoing people retired to ensure a smooth transition. And we were transparent with our employees and our customers. We wanted to make them aware of the transition and provide them time to meet the new person and build those relationships. It allowed the incoming employees to learn the processes so we could continue to collaborate and grow."
Company Culture
With this transition has come the opportunity to reevaluate the company's entire brand identity. Maine Oxy will be debuting a new website early this year and as part of that new identity comes a new Mission Statement which reads: "Maine Oxy provides a reliable supply of essential molecules and materials to ensure businesses of all sizes can successfully function and thrive."
With more than 90 years of experience and expertise in the industry, Maine Oxy has become a relied on and trusted partner to its customers. Its long-standing partnerships with some of the biggest suppliers in the industry, including Messer, Linde, Lincoln Electric, Miller, Hypertherm, and ESAB, give customers peace of mind when working with Maine Oxy.
"Having been around for more than 90 years, it gives our customers and our potential job candidates a sense of comfort knowing that we've been around for as long as we have and we're still growing. That's definitely been a way for us to set ourselves apart from other companies that we compete with in the New England area."
And its devotion to remaining independent and family-owned also sets Maine Oxy apart from other companies in the market.
Says Gentry, "As everyone knows, through consolidation, the number of independents has decreased throughout the years. That has created opportunities for our company to grow in our market."
She notes that customer demand has also driven growth and innovation, as well.
"We have noticed that our customers expect products to add a better value today, in addition to providing technical expertise," says Gentry. "We have invested in a productivity program and began globally sourcing our products, as well. As we continue to grow through our productivity program, it allows us to grow our profitability and reinvest and grow the company."
The March to 100
Maine-Oxy will turn 100 in 2029. Between now and then, the company will continue to grow and expand.
"We're so excited to continue to grow our company. To work together as a team and see what the future holds together," says Gentry. "We want to continue to foster on-hand training and continue to see our employees grow their careers at Maine Oxy. We love to promote from within and help current employees grow in their careers. Without our employees, we could have never achieved what we have today."
Though the family is different, the company still operates on those same family-values that has made it successful for the past 93 years. And it appears to be well-suited to operate that way through its 100th anniversary and beyond.