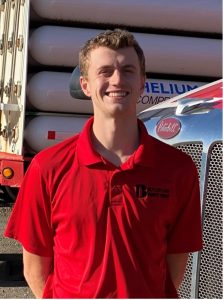 According to a post on its website, Butler Gas Products has promoted Adam McQuillan to Safety and Compliance Director. Adam joined Butler in 2020, following an internship in safety and compliance. Since then, he has worked as Safety and Compliance Coordinator. He was promoted to Safety and Compliance Director following ISO/IEC 17025:2017 Accreditation for Butler Gas's specialty gas division.
Adam graduated from Indiana University of Pennsylvania with a Bachelor's in Safety, Health, and Applied Environmental Sciences. He is a certified Graduate Safety Practitioner (GSP) and Associate Safety and Health Manager (ASHM), as well as a member of the National Society of Leadership and Success (NSLS) and the American Society of Safety Professionals (ASSP).  Adam has completed three GAWDA Compliance Seminars and is chair of the Butler Gas Safety Committee.
"We are thrilled to formalize Adam's expanding responsibilities with this promotion," shared Butler Gas President and CEO Abydee Butler Moore in an internal announcement.  "Being an effective safety professional in our industry is all about entrenching yourself in the operations of the business.  Adam is on the fast track with his recent accomplishments and leadership in our Specialty Gas ISO Accreditation, and in CDL Driver recruitment and DOT training.  Our number one core belief is 100% safety.  The Butler Gas Family is grateful for Adam's safety and compliance expertise, passion, and stewardship."
Butler Gas believes customers do not have to sacrifice service for capabilities, and targets being the western Pennsylvania region's best gas manufacturer and distributor.