2023 Sets a New SMC Attendance Record!
GAWDA kicked off its 2023 event schedule in record-setting fashion as 728 GAWDA members gathered in Philadelphia for this year's Spring Management Conference. This year's SMC was a whirlwind of learning, networking and fun. Each detail was meticulously planned, in keeping with this year's SMC theme of "365 Intentional Leadership." The common thread through all the presentations is taking action with a purposeful goal in mind and that really shined through in the takeaways that GAWDA members were able to take back to their companies. Thank you to all the GAWDA members who made the concerted effort to take time away from their busy schedules and companies to be with us in Philadelphia. We can't wait to do it again later this year in Maui!
2023 SMC Attendance by the Numbers
728 attendees, a new SMC record for overall attendance this decade.
381 supplier attendees
246 distributor attendees
136 Exhibitors at the Contact Booth Program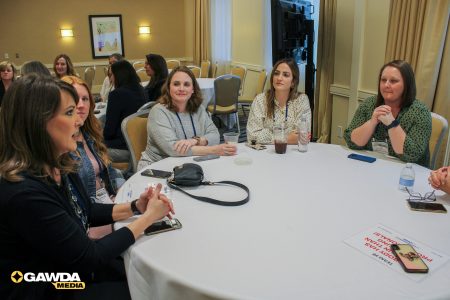 Following the Women of Gases and Welding Committee Meeting, the...
View Photos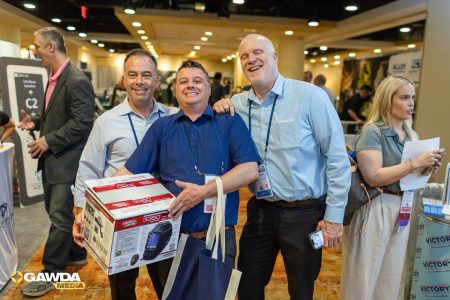 Sunday afternoon at the GAWDA SMC concluded with the can't-miss...
View Photos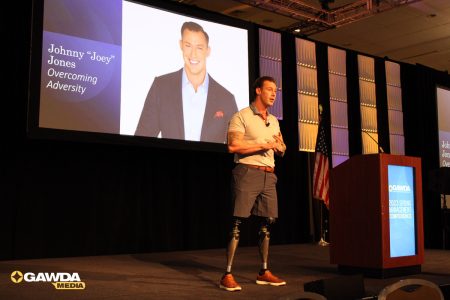 An Inspirational Presentation Opens the Event The Opening presentation of...
View Photos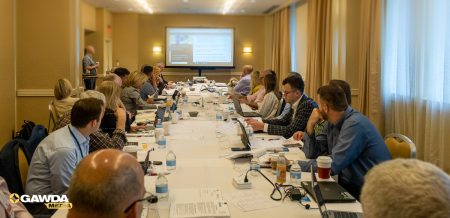 GAWDA Board and Executive Committee Meet The GAWDA Executive Committee...
View Photos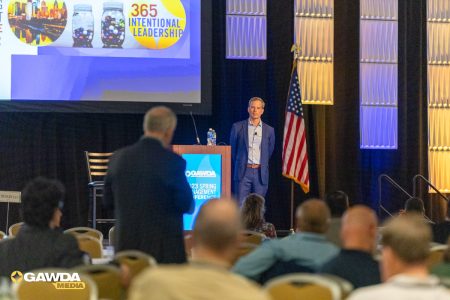 Robert Anders Speaks With Intentionality After Eric spoke, GAWDA President...
View Photos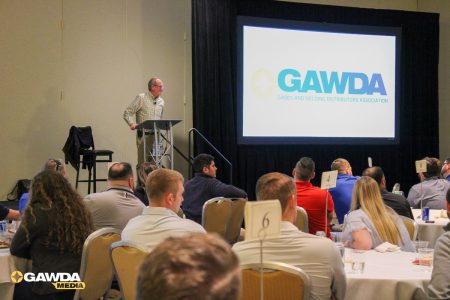 GAWDA Young Professionals "Learn & Lunch" presentation The Young Professionals...
View Photos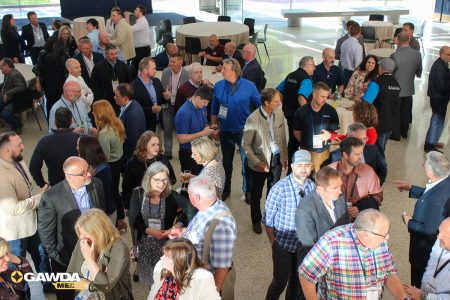 GAWDA President Robert Anders and his wife, Missy, invited all...
View Photos
Robert Anders Speaks With Intentionality
After Eric spoke, GAWDA President Robert Anders took the stage to discuss the theme of his presidency, "Living Intentionally." Robert reflected on the pact he made with membership during the 2022 Annual Convention in San Diego and took stock of his life to see if "his video was following his audio."
He discussed changes he made in his own life in his effort to live intentionally. He also presented a "mid-year" snapshot for GAWDA, which includes:
Holding more than 25 meetings and seminars (including in-person, webinars, and seminars.)
The introduction of the new GAWDA macroeconomic series
The launch of the GAWDA MBA Program, in which 125 GAWDA members participated in.
He also presented some membership data, including the fact that GAWDA has a 96% retention rate and the fact that more than 40% of GAWDA members have been with the organization for over 30 years!
Finally, Robert introduced the GAWDA Gives Back recipient for the Annual Convention in Hawaii, the Malama Family Health Center. The Malama Family Health Center provides caring, holistic substance use disorder treatment to women and children so families can live safe, independent and healthy lives. This is a cause that is near and dear to Robert and Missy's heart, as they have seen the impact of substance abuse in their own lives. Click the button below to learn more about the GAWDA Gives Back Recipient.
Johnny "Joey" Jones Wows the Crowd With Opening Mainstage Presentation
The Opening presentation of the 2023 SMC was given by former Marine and Fox News Contributor Johnny "Joey" Jones. Joey is a decorated marine who served two combat deployments in Iraq and Afghanistan as a Staff Sergeant and Explosive Ordnance Disposal Technician. In 2010, he suffered an IED-related accident that resulted in the loss of both of his legs above the knee and severe damage to his right forearm and both wrists.
Though nobody would have blamed him for becoming bitter and angry, on the contrary, Jones considered himself lucky to have survived the incident and regain his ability to walk. His presentation consisted of life lessons learned from his dad in Dalton, Georgia, and then his time in the Marines. The presentation was incredibly inspirational and optimistic. Joey has dedicated his life and work towards improving the lives of all veterans and their families. And he uses his speaking engagements as an opportunity to ensure that people are taking advantage of the time and gifts they've been given. "Life is for the living and we have a responsibility to those who have died before us to live our lives to the fullest to honor their sacrifice," he concluded.
Colene Rogers Presents on Hot-Button Issue of Recruitment and Retention
Following the Educational Track Sessions, all attendees re-convened for one more main-stage presentation before lunch. Executive Coach and Talent Management Expert Colene Rogers took the stage to discuss one of the biggest hot-button issues facing not only GAWDA members but businesses across all industries: recruitment and retention. She discussed a widely-publicized and eye-opening Gallup Employee Engagement Survey on asking the right questions. Her presentation was stuffed with great insight and tips for not only recruiting new employees to your company but ensuring that they are positioned to succeed and stay with the company long-term. Colene's presentation comes at a watershed moment for GAWDA members as we all contend with finding and keeping our A performers.
Hallerin Hilton Hill Inspires the Crowd
Robert Anders retook the stage to introduce the morning's first keynote speaker and his personal friend Hallerin Hilton Hill. Hallerin and Robert first met 25 years ago and, "Like a fine wine, he just keeps getting better," said Robert.
Hallerin Hilton Hill is a communication mastermind, a leadership guru, and a true Renaissance man. With over 30 years of experience in inspiring, informing, and entertaining audiences across the United States, Hallerin has become one of the most sought-after speakers in the business. Hallerin spoke about intentionality, in keeping with the theme of the event. His overall message was one of optimism and hope. "Life is what you make of it. Intention shapes your world," he said. He relayed stories from his own life that drive his intention. He concluded that "We are all in control of our own actions and mindset and have control over the outcome and the type of person we will become."
SMC Concludes with Industry Keynote from Lincoln Electric's Steven Hedlund
Following a brief break, GAWDA President-Elect Gary Halter took the stage to introduce the final presenter of the SMC, Lincoln Electric EVP and COO Steven Hedlund.
Steven ran point on Lincoln's integration in Europe after its Air Liquide Welding acquisition and relayed lessons learned throughout that process and his career at Lincoln. His presentation detailed "Hard Lessons Learned." His presentation was broken up into five key themes: change management, empathetic leadership, leadership development, talent density, and building morale. It was an interesting, funny, and take-away-filled presentation and the perfect cap on a record-setting SMC.
More than 600 Attended the Contact Booth Program
More than 600 people attended this three-hour event from 1:30-4:30. It was an opportunity for distributors and suppliers to meet, network, and learn about the latest and greatest technology in the industry. New this year was GAWDA's Regional one-day pass for the SMC. Members within driving distance of Philadelphia had the opportunity to visit for one-day only. This was a popular program that many members took advantage of.
Also new this year, the Contact Booth Program ended with a one-hour Contact Booth Networking Reception right on the floor. This was an opportunity to continue discussions in a more informal setting with a drink in hand. It was a perfect end to the day.
Flip through the 2023 SMC Preview Issue