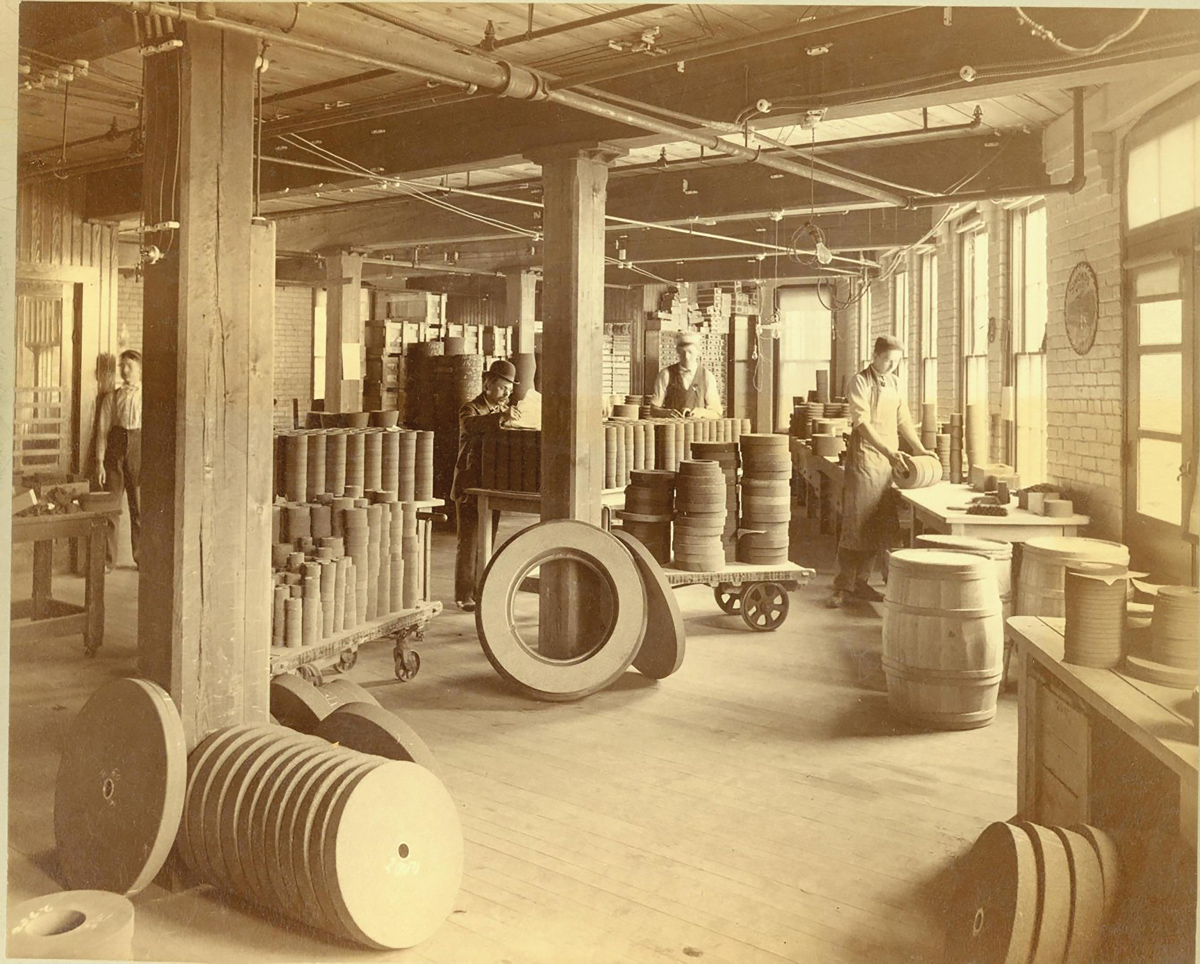 In 1858, Franklin Norton and his older cousin, Frederick Hancock opened a pottery shop in Worcester, Massachusetts, called the Water Street Pottery Shop. In 1873, one of the employees of the shop invented a grinding wheel that would set in motion the next century and a half of history.
In 1885, seven Worcester entrepreneurs bought the patent for the grinding wheel as well as the company name and so, Norton Company was born.
The founders purchased land in the city's Greendale section, which was then farmland, and built their first grinding wheel plant. Norton has occupied that land ever since, where two of the founders, John Jeppson and Milton Higgins, their sons, and grandsons, then managed the company until the 1970s.
What began as a tiny start-up began to grow rapidly. By 1920, the company was one of the 400 largest industrial companies in the United States. As Norton grew, it diversified into industrial products other than abrasives, and became a major multinational corporation. Norton became a publicly held company in 1962.
In 1990, Norton was acquired by Saint-Gobain, one of the world's largest industrial companies. Saint-Gobain began an ambitious program of acquisitions and joint ventures to strengthen its North American business and undertook extensive modernization in Worcester. In 2001, Norton Company changed its legal entity name to Saint-Gobain Abrasives.
Over the next decade, the company would build its North American center of R&D excellence in Northboro, MA and revitalize the Norton name with endorsement of the Saint-Gobain name in its logo to allow both well-known names to become more recognizable in the marketplace.
130 years after the purchase of the original grinding wheel patents, the world headquarters for the abrasives business remains in Worcester and Norton continues to maintain its entrepreneurial spirit as the company focuses on its continued evolution to bring solutions to customers with choices that matter to them.
"Norton is proud of our strong presence in your communities across the United States and Canada. Our 2,200 employees work in one of eight facilities. We're a global brand that delivers locally – our employees are imagining, making, delivering, and selling products you use just around the corner. They bring deep experience and share common values focused on delivering powerful, precise, and user-friendly solutions to any finishing/refinishing application," the company says.

GAWDA members represent the best-of-the-best companies in the gases and welding industries. Each year in the Summer issue, we recognize those GAWDA Members celebrating milestone anniversaries. In the Q3 issue's President's Column, GAWDA President Robert Anders explored the three C's of longevity. We want to add a fourth C for this column: Congratulations to all those GAWDA members celebrating anniversaries this year! And if you have a milestone anniversary coming up in 2024 and would like to be featured in this column next year, please reach out today at [email protected]