Lampton Welding Supply (Wichita, Kansas) was founded on October 1, 1946, by Marcel L. Lampton in his garage in Wichita. Marcel had worked for a welding supply company called Phillips and Easton before the company decided to not sell welding supplies anymore following World War II. So, Marcel decided to venture out on his own and fill that welding supply need himself.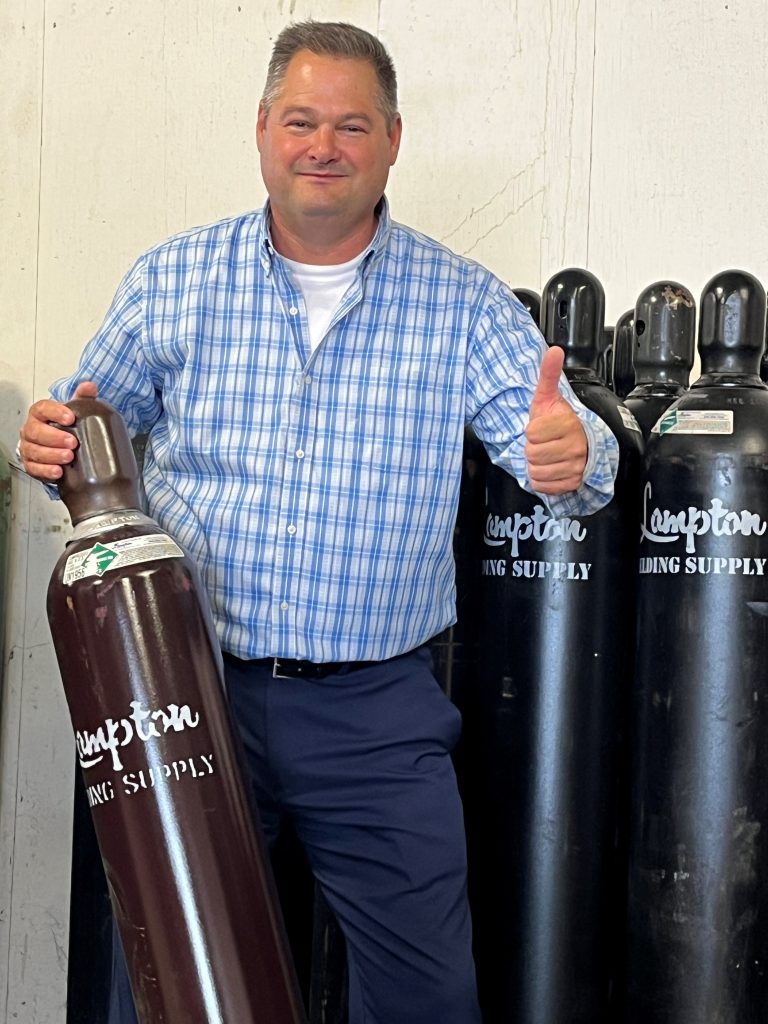 For nearly 80 years, Lampton Welding Supply has been driven by an entrepreneurial spirit to not only grow the business but to be a true partner to its customers, solving their problems and fulfilling their needs. That spirit has helped grow Lampton from Marcel's garage to 16 locations today, including 15 branches across Kansas, Oklahoma, Missouri, and Nebraska.
In 1985, Marcel Lampton retired and his son, Marvin E. Lampton took over the company. During Marvin's tenure as President, Lampton began to rapidly expand its footprint, completing acquisitions and scratch starts across the Midwest.
Through it all, Lampton was built on the foundation of being a strong, reliable, trustworthy supplier. And when it grew, it grew in service of fulfilling customer needs. In 2012, they built a state-of-the-art automated fill plant with a specialty gas lab in Wichita called Gases Technology, Inc.
Marvin's sons, Doug and Brad joined the company, eventually becoming third-generation owners. In 2019, Doug Lampton was named President of Lampton Welding Supply. It was the culmination of decades of work and service. And Doug intended to hit the ground running.
"When I became President, I was able to start implementing some new ideas that I had," Doug Lampton says. "I knew what we needed to do to evolve and thrive going forward."
The idea for what would be referred to as Lampton 2.0 began to take shape.
Lampton 2.0
Doug assumed the mantle of presidency with grand ideas on how Lampton could elevate itself to the next level. But before his grand plan could start to take place, COVID happened.
"We had to survive through that," Doug says. "But we actually grew through the pandemic. We had an All-Star team in place. We had great team members that had survived the pandemic. (Lampton calls their employees 'Team Members' since they all work together as one team for the customer.) But I knew that I couldn't focus on everything all at once. The sales and the operations, as well as the growth plans and building plans I wanted to implement. So, I decided to reorganize the company and add an extra level of high-level leadership. And in April 2022, we began transforming that All-Star team into a Dream Team."
The initial plans for Lampton 2.0 were seeded when Doug became President in 2019. But the official "groundbreaking" on the plan took place in April 2022, when Lampton hired industry-veteran Robert Mohr Gerry as its Executive Vice President.
"I have always loved the concept of evolving a business and taking it forward and implementing purposeful, positive change. Trying to find out how dynamic, elastic, and high performing a company can be," says Gerry. "When Doug and I spoke, he told me he wanted somebody to come in and really turn the switch and implement the vision he had for Lampton 2.0. He was committed. When I heard Doug's vision and I saw how committed he was to making it a reality and I knew that I would have lots of autonomy to make things happen, I was very excited."
The second domino to fall happened in February 2023, as Larry Krznaric joined the company as its Executive Vice President of Operations.
"I knew we needed more focus," Lampton says. "We needed more focused leadership. And so, Robert could dive into the sales and make our team better. And Larry was able to focus on the Operations Side and not have to worry about the sales. Everybody has their lane. And that is the key to taking care of our customers."

Hitting the Accelerator
Lampton 2.0 isn't about reinventing the wheel. It is a focused dedication on taking a brand and a legacy that has been in place for more than 75 years and injecting it with rocket fuel. The first thing that the new structure addressed was being laser-focused on its communication.
"We want every single team member in the company to understand the vision and mission," says Gerry. "So, we put in place a formal communication strategy. We divided things up into weekly, monthly, bi-monthly, quarterly and annual communications. But every step of the way, our team members know the mission and what we're trying to accomplish together."
The company also boils its success down to what it calls "The Four P's." To consistently win requires strengths in all four sectors of performance:
People – Best in class talent, strong training and onboarding processes, compensation tied to performance, a team approach to success, strong role definition, excellent measurement of performance characteristics and people committed to excellence.
Says Gerry, "You need best in class talent. And we've focused on that in our sales team. We've added specialists into the mix to help support our generalist sales staff. Specialists in automation, advanced welding systems, laser welding, bulk gas, specialty gas, beverage gas and medical gas. They will be our accelerators because they're all building off of the common construct of moving the business forward."
Products – Representing strong brands, presenting highly-organized offerings, leading with solutions, having superb vendor partnerships for the markets and customers we serve.
"One of the first things we focused on when we started Lampton 2.0 was finding out who our true partners were. We qualified them. Where we didn't feel they were the best solutions moving forward, we moved on. We've really increased our partnerships with some best-in-class industry partners. And we have the right products. That's important. We want the safest brands that bring our customers the best value," says Gerry.
Programs – partnering with "Best in Class" industry partners, providing a framework for excellence in retail customer experience and outside sales engagement and customer process enhancement, strong messaging and marketing materials, brand evolution.
Positions – Locations that serve the markets we seek, smart highly functional distribution capabilities to serve, digital commerce as an offering, having the right talent serving the right customer base, committed to segments that propel the business forward, specialists that support the evolution of our customers.
"Where we position ourselves is important," Gerry says. "Not just geographically but where our capabilities are best suited. And that goes for growth as well. We've been the dominant player in Kansas. People know our name and know our capabilities. We've earned that. But you can't just show up to a new market and assume the brand will carry you. You have to introduce those new markets to the brand. It's much more expensive to gain a new customer but we're committed to it. We've got to be of superior value to customers and put our brand in the right place. That's that positioning. We've brought on a brand manager as another targeted addition to the team."
"That's the evolution," says Gerry. "It's being laser-focused on those four pillars, investing to make them happen, bringing on the talent and following the program. We're headed toward $100 million. That's our next goal."
And though the vision of Lampton 2.0 started at the top, the company is incredibly focused on ensuring that it is not dictating from on high. The entire company, nearly 150 team members, share in the wins.
Says Gerry, "It's really about the team and what the team can accomplish and how we can support them as leaders, more than it is the construct of Doug has a role and I have a role. We're really hoping to ensure that the people who are in the business day-to-day feel highly respected, challenged, and rewarded, and then we're just the blockade removers and market designers and they're the ones who really get the credit. That's our intention."
The Quest for $100 Million
Though the company is invested from top-to-bottom in the vision and trajectory it has laid out, it understands that it can't simply abandon what made it successful for 77 years.
"We will always treat our customers with respect," Lampton says. "With every proposal to our customers, we include the 'Lampton Commitment.'"
The Lampton Commitment reads:
"Lampton Welding Supply promises to conduct our business with integrity, respect, high ethics and a determined commitment to excellence.
Over 77 years of gases and welding supply excellence has culminated in the creation of what Lampton Welding Supply is today. Lampton Welding Supply is the industry leader because:
Lampton Welding Supply does it right from the start.
Lampton Welding Supply will have the finest quality products and the best service available in the industry.
Lampton Welding Supply will treat each customer as we would a guest in our home.
If you think you can't, you won't…If you think you can, you will! WE CAN, WE WILL."
And the proof is in the pudding. Since the advent of Lampton 2.0, the company has continuously been breaking territory sales records. And, more than that, the team members are visibly buying in.
"I feel it whenever I go to our stores now," Lampton says. "There's a buzz when I walk into the stores. The team members are happier. They're focused. They're busy. And they're very positive. And I saw it when we had our annual Lampton Company picnic. We had a very large increase in the number of team members who traveled from all four states into Wichita to attend. It's not a mandatory event. You could just see the momentum and buzz that has been created. It's due to the changes and the 'focused leadership' that Robert and Larry give them. I think it's all translating into wins, and everybody is seeing it."

The Next Phase
Part of Lampton 2.0 is ensuring the Lampton family legacy continues to be strong.
"We want to carry on this brand and legacy," Gerry says. "The results we see in five years come from the plans we implement today. The assets and capabilities we're adding and the commitment to growth, should lead to us being even better at what we do, to having a higher sense of excellence, a higher sense of urgency as we evolve into becoming the dominant super regional in this part of the country. That's really the mission. To be dominant and forward-thinking about what the customers' needs are through this business evolution."
Lampton concludes, "In ten years, I still think we'll be winning, growing, and building. That's what I enjoy is the growing and building of people. Making their lives better. That's what satisfies me. We are not for sale and never will be for sale as long as I'm alive. We will approach the future in the future, but right now we're focusing on today and the next few years, and we are all having fun doing it."