In 1958, Pat Baxter and Bob Walsh, who had worked together at National Cylinder Gas (NCG) decided to strike out on their own and started the Holston Oxygen Company in Knoxville, TN. Baxter and Walsh grew the business one account at a time, as customers were attracted to the personal attention and superior effort that the company made to satisfy their needs. In 1976, Baxter bought out Walsh's interest in the company to become the sole owner of Holston.
Today, Holston Gases, Inc. led by Chairman Bill Baxter (Pat's son), President Robert Anders, and Senior Vice President Joe Baxter (Bill's son) boasts 42 branches and 600 employees.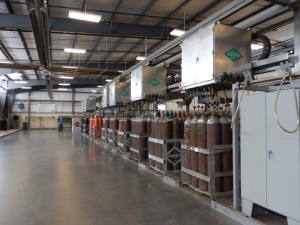 "We've been able to grow through a combination of acquisitions of smaller business along with scratch starts," says Chairman Bill Baxter. "We're a family-owned company. And we treat our customers and our employees accordingly."
A hallmark of Holston throughout its 65-year history is its trust and empowerment of its employees.
"If you get the right person and leader in place, the worst thing you can do is micromanage them," Baxter says. "They know their own market best. We set annual goals and annual budgets. We meet with them and offer them all the resources that they need. But they're basically running Holston Gases in their own individual markets."
In order to have that kind of trust and freedom, Holston looks for very specific character traits in its employees.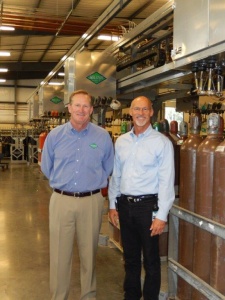 "We're looking for character," says Baxter. "We're a sales driven company, so obviously we're looking for somebody with a sales mentality. But we want to know that you're great with all kinds of people. That you're a person that can be trusted to keep your word. People can learn the business, but it's more important that everyone shares the sale values and is able to communicate well."
From its humble beginnings, Holston Gases has flourished into one of the largest independent distributors in the country. And with an empowered staff, the company is well equipped to continue that growth long into the future.
GAWDA members represent the best-of-the-best companies in the gases and welding industries. Each year in the Summer issue, we recognize those GAWDA Members celebrating milestone anniversaries. In the Q3 issue's President's Column, GAWDA President Robert Anders explored the three C's of longevity. We want to add a fourth C for this column: Congratulations to all those GAWDA members celebrating anniversaries this year! And if you have a milestone anniversary coming up in 2024 and would like to be featured in this column next year, please reach out today at [email protected]