In the back room of the Denver Hardware Store in 1958, Paul Witwer, Walter Cubberley and Floyd Witwer agreed to start a wire business. Over the years and decades that followed, they saw the single room in the hardware store grow to include three manufacturing locations and three inventory warehouses that employs more than 500 associates, with annual sales exceeding $250 million.
The men partnered in other endeavors over the years as well to create strategically and vertically integrated brands and businesses to compliment the Kalas portfolio. Throughout their periods of growth, they never lost sight of their initial vision of delivering quality products to valued customers, whether down the street, or across the globe.
For 65 years, Kalas has been delivering dependable solutions to its customers. The original founding members of the company were as passionate about manufacturing quality wire and cable products as they were about creating jobs in their local communities and opportunities for their associates.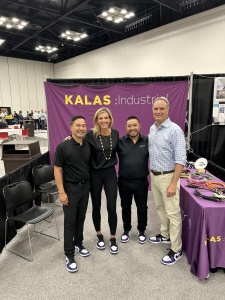 As a privately held family business, the Kalas family spans more than the three generations of Witwer men who have held leadership positions and extends to include all 500 associates. The company has succeeded for 65 years by staying true to its core values of integrity, caring, honesty, respect, giving, and rewarding and living up to its core purpose, "To improve the lives we touch."
"By honoring our commitments, delivering value, and demonstrating our dependability with collaborative partnerships, we pride ourselves not only on the quality of our materials, but also the quality of our character," the company says.
The company's entrepreneurial spirit, inherent desire to create opportunities for associates and passion to foster mutually beneficial partnerships with its customers sets Kalas apart and has created the strong foundation for its past, current and future success.
GAWDA members represent the best-of-the-best companies in the gases and welding industries. Each year in the Summer issue, we recognize those GAWDA Members celebrating milestone anniversaries. In the Q3 issue's President's Column, GAWDA President Robert Anders explored the three C's of longevity. We want to add a fourth C for this column: Congratulations to all those GAWDA members celebrating anniversaries this year! And if you have a milestone anniversary coming up in 2024 and would like to be featured in this column next year, please reach out today at [email protected]