Founded in 1973 by Erwin and Karolina Weh, WEH Technologies began as an innovative quick connector provider for pressure, function, and leak testing. Their market intuition led to a diverse product line, making them a key player in the industry.
As the business expanded, it not only provided solutions to its customers' challenges but also played a vital role in enhancing workplace safety and efficiency. The team at WEH remained committed to their vision of developing products that facilitated secure and seamless processes for their clients. Today, the legacy of Erwin and Karolina Weh lives on, as the company continues to solve connections problems for its customers. 
"Our company's journey from a 5-member family operation to where we are today has been a story of steady growth and evolution," the company says. "Initially, we started with three family members and two employees, even involving our children in the work and providing them with apprenticeship positions, following the German rules of apprenticeship. As our product line expanded, so did our business organically. Every earned penny was reinvested into new machines and company needs. The growing demand led us to seek a new 100,000 sq. ft. factory floor, for which we secured a loan. Today, we proudly employ around 200 individuals across three plants – the original building with the living quarters of Mr. and Mrs. Weh, and our new, modern facility."
WEH's company culture is deeply rooted in direct and meticulous detail work, reflecting its origins as a machining factory. Its core values are centered on shop floor principles, with a strong sense of pride in delivering top-quality work. This unwavering commitment to quality has been instrumental in sustaining the company's longevity and success.
WEH currently operates three plants located in Illertissen, Germany. These plants consist of separate buildings with shipping and order execution, a separate administration and training center, a new logistic center, and a 100,000 sq. ft. factory floor dedicated to machine works and testing.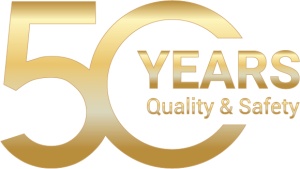 To commemorate its 50th anniversary, the company held a momentous celebration on its company premises, bringing together employees, their families, friends, and business partners. The event featured a special conversation with founders Erwin and Karolina Weh, taking the audience on an emotional journey through 50 years of history. Throughout the day, there were various attractions, food trucks, and live music, making it a joyous occasion for everyone. 
"We take immense pride in our past and look forward to a bright future ahead," the company says. "Our commitment to delivering top-notch quality remains unchanged. As we reflect on our journey, we remain steadfast in our dedication to innovation and uncompromising quality, ensuring that our products continue to be the benchmark of excellence in the industry."
GAWDA members represent the best-of-the-best companies in the gases and welding industries. Each year in the Summer issue, we recognize those GAWDA Members celebrating milestone anniversaries. In the Q3 issue's President's Column, GAWDA President Robert Anders explored the three C's of longevity. We want to add a fourth C for this column: Congratulations to all those GAWDA members celebrating anniversaries this year! And if you have a milestone anniversary coming up in 2024 and would like to be featured in this column next year, please reach out today at [email protected]