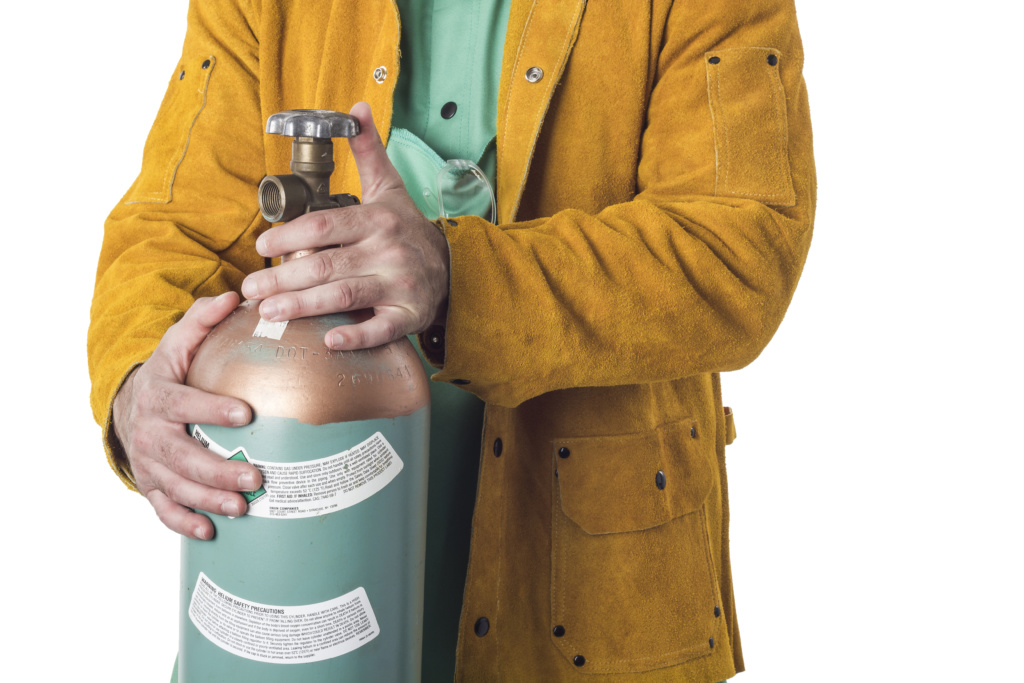 By Charles McChesney
Safety is at the center of the Gases and Welding Distributors Association's existence. The Association's mission statement literally puts safety first – "The GAWDA mission is to promote the safe operation and economic vitality of distributors of industrial gases and related welding equipment and supplies" – and safety is woven throughout its operations.
"You can replace equipment. You can replace trucks. You can replace cylinders. You can't replace a human. And that's actually the only way you should look at it," says Jim Herring, chair of the GAWDA Safety Committee and vice president of Saf T Cart. 
Safety offerings date back at least 50 years to 1967 when GAWDA's predecessor, the National Welding Supply Association, became a member of the Compressed Gas Association (CGA) and helped promote CGA's Distributor Safety Program. 
CGA and GAWDA continue to work together on distributor safety programs. Current programs include outgrowths from the CGA membership, as well as programs made necessary as government regulations have increased to cover more parts of the gases and welding industry.
GAWDA Safety Committee
A 20-person committee – providing extensive viewpoints and expertise – is one of the ways GAWDA promotes safe practices and provides information leading to an increased awareness of safety concepts among members.
Members include safety and compliance directors, consultants, officials from CGA and distributors. The Safety Committee meets monthly by conference call and annually in person at the Spring Management Conference, says Herring. The meetings cover some fundamental safety issues as well as those that are top of mind. 
An important aspect of the committee's work is its regular review of safety issues, says committee member Kevin Carr, of Danbury, Conn., distributor Hocon Gas. He explains that Herring asks committee members for subjects they think need to be looked at, pares the list down and asks members to create subcommittees to tackle each subject. The subcommittees return with updates that the entire committee reviews.
Committee member Marilyn Dempsey, director of safety and compliance for distributor Tech Air, says simple updates may take two months to work through the process. A more complicated issue, contractor liability, took four months and dozens of hours. Subcommittee members who hammered out that policy developed one that is far more manageable than the one her company used previously, she says.
One member, John F. Hill, president of Willard C. Starcher, Inc., a distributor in Spencer, W.Va., has a strong personal interest in safety. He grew up around his grandfather, the founder of Willard C. Starcher, and saw the scars his grandfather suffered from a 1947 propane explosion that nearly destroyed the business. 
"Either they weren't following procedures or very likely there were no established procedures then," Hill says. "We want to follow established safety procedures and to do it the right way and the professional way." 
Herring can trace his commitment to safety to his 16-plus years delivering for UPS. "Safety was a part of everything we did at United Parcel Service – and they kept drilling it into your head," he says. He brought that commitment with him when he joined Saf T Cart. Seeing how workers can get injured in manufacturing has kept him focused on avoiding injuries, he relates. In fact, Saf T Cart stopped making a particular part after a worker was injured operating the machine involved, he explains. "We do things the right way. We wouldn't do it any other way."
Hill stresses that some risk is inherent in supplying gases meant to burn at thousands of degrees. He sees part of his role on the committee to make sure that the quest for safety doesn't lead to rules that would make it impossible to do business.
Dempsey echoes that concern, one she says is shared by other independent distributors: "How can we make sure this committee is a resource, not an impediment?"
High-Value Consultants
Ask  GAWDA members what they get from their membership and many gladly recount the assistance they received from one of GAWDA's professional consultants. The three professional consultants who handle safety and safety-related issues for the membership are Michael Dodd, Tom Badstubner and Richard P. Schweitzer. With decades of experience each, the consultants provide expert insights into technical, regulatory, legal and human resource matters.
Dodd is GAWDA's consultant for matters touching upon the Department of Transportation (DOT), Homeland Security, the Occupational Safety and Health Administration (OSHA) and the Environmental Protection Agency. He has more than 42 years of experience in the gases and welding industry. Along with consulting with members, Dodd maintains compliance manuals and prepares monthly bulletins.
Badstubner consults on Food and Drug Administration matters as well as on medical gas questions. In addition, he administers GAWDA's Medical Gas Standard Operating Procedures and monthly Food Gas Roundtables. He's been involved in the gases and welding industry for 42 years.
Schweitzer is an attorney in Washington, D.C., who consults on government affairs, human resources and serves as GAWDA's general counsel. He regularly alerts members of changing regulations and impending changes as a contributor to the twice-monthly GAWDA Connection. He also implements GAWDA's government affairs efforts under the direction of the Government Affairs Committee. He is GAWDA's voice on Capitol Hill and with federal and state regulatory agencies.
A Team Safety Approach
Dodd explains how the three work together this way: Schweitzer watches for regulations as they are being developed while he and Badstubner deal with regulations as they exist. When a member has an issue or concern, he or she can call the consultants anytime. There is no charge for the first phone call and often that's all it takes to resolve the matter. Even if a situation requires more extensive time and assistance, the consultants usually are able to accommodate members' needs without requiring any fees or charges. 
"No one person can stay up on all the regulations – so that's what we do," says Badstubner. He notes that the major gas companies have people on staff to answer safety and compliance questions when they arise. However, GAWDA member firms that aren't that large can turn to GAWDA's consultants for the same informed answers. 
And members do turn to the consultants with questions that often focus on procedures, according to Badstubner. Sometimes a consultant will get a call from a member facing an immediate issue. More than once, the consultants have answered their phone to hear from a member that regulators have stopped by for a surprise inspection or audit. 
"They'll ask, 'what do I do?' and we help them," Dodd says. Consultants often can help immediately when urgent situations arise. For instance, there was the time a member called because his branch was not properly registered. Badstubner was able to make arrangements for proper registration while the audit was still in progress. While the registration hadn't  yet appeared on the FDA's website, the member was able to show the on-site team a receipt for the registration submission, he recalls. This avoided a violation.
Other times, it's a case that a consultants' expertise exceeds that of those charged with enforcing regulations. Badstubner recently got a call from a member who was told by an on-site inspector that there was a draft regulation they needed to be aware of, something that would require them to change how they operate. Knowing that the regulation hadn't been put into effect – or even been through the comment period yet  –  Badstubner advised that the regulator "should not be enforcing draft FDA positions."  
It can be intimidating having a regulator come by for a surprise audit, he says. Helping members understand and stand up for their rights is part of the job, according to Badstubner. Sometimes, "they have rights they just don't know about."
Getting Up To Date
GAWDA Past President Bill Visintainer, president of Atlas Welding Supply Co., in Tuscaloosa, Ala., has used GAWDA consultants extensively. When he first bought his then-six-person distributorship in 2008, he brought in Dodd for a one-day mock DOT audit. That event went so well, he asked Dodd to stick around and provide a second day of training to those handling cylinders. He then asked Dodd to stay for a third day to provide additional training, instructing a class for driver supervisors, training them regarding reasonable suspicion of alcohol and controlled substances abuse. Dodd also put on a hazmat class for the entire group. 
When Dodd left, Visintainer says his business was up to date. He also had people on hand who were capable of keeping things up to date as well as capable of training other personnel to do the same.  
"Now, anytime he's anywhere near us, we like to invite him in," says Visintainer.
Once, Visintainer consulted with Dodd about a local issue. The fire department came by and said there was too much oxidizer being kept inside a building. Dodd's response was that the fire department was not correct, but he didn't advise fighting them over the issue. "Why would you want to tick these guys off?" Visintainer recounts Dodd asking. So Visintainer moved some of the oxidizer and altered work processes to deal with its new placement. "And, you know, it actually improved our workflow," he says.
Dempsey says her branch managers know what to do if an FDA inspector walks into their operation. They call her. She calls Badstubner. "He'll tell me to text him, and he'll drop everything" at those moments, she explains.
300 CGA Safety Publications – Free 
GAWDA's CGA Subscription program is so beneficial that Hill says he can't understand why all members don't take advantage of it.
Since 2012, GAWDA and the Compressed Gas Association (CGA) have maintained a partnership that allows GAWDA distributor and Canadian distributor members a variety of advantages. It allows free access to CGA's library of more 300 electronic safety publications. That access means all CGA electronic publications are available to one person per location from each eligible GAWDA distributor member company. In addition, CGA offers discounts on hardcopy publications, the CGA Handbook of Compressed Gases, as well as safety videos.
Many of the CGA publications available are regulations that gases-industry companies are required to have on hand. The cost savings just from getting those publications for free more than covers the annual cost of GAWDA dues for smaller members, according to Dodd.
Of course, the documents are important beyond the need for compliance because they are used as procedural guides, Dodd explains. Before they appear on the CGA website, the documents have been through rigorous reviews by industry professionals, including GAWDA members. What comes out can be considered "industry standards," providing guidance on processes and procedures, as well as the peace of mind that comes from knowing that processes are accepted by industry peers. 
Dodd points to separate documents that cover recommendations specific to the safe storage, handling and use of electronic specialty gases packaged in containers. Another document discusses specific recommendations for small portable liquid oxygen systems in health care facilities. Others cover everyday tasks, such as cylinder filling or establishing evidence of ownership of compressed gas cylinders. 
Safety Award
In addition, GAWDA and CGA co-sponsor the annual Distributor Safety Award, recognizing the distributor with the greatest improvement in safety performance during the past five years. The award is presented each year at GAWDA's Annual Convention and CGA's Annual Meeting.
To qualify for the free publication subscription program and the award program, the applicant must be a member of GAWDA in good standing, must be from GAWDA's distributor or Canadian distributor membership category, must not be a former member of CGA with a membership termination date later than October 10, 2011, and must provide the required safety data with their application.
The safety data comes from the OSHA's Form 300A, a summary sheet based on OSHA Form 300. 
"This is one of the greatest deals GAWDA membership has been offered," says Dodd. He notes that nearly all members have to complete an OSHA Form 300 and post an OSHA Form 300A anyway, so the work has already been done. 
"It's very simple," says Hill. "All you do is: They send you a notification. You fill in the block. I take my OSHA Form 300, I transfer the data and send it. It's simple. It takes longer to find the OSHA 300 form than it takes to fill out the report," he adds.
Carr says he has heard concerns about the confidentiality of the reports from some members who don't participate. 
"That's how we all are," says Dempsey. "As small, independents we think, 'uh-uh, nobody's going to know my numbers.'" But in time, Dempsey came to see the value of the program and now, Tech Air actively participates across its nationwide footprint.
Extremely Confidential
Dodd says CGA keeps the information confidential, in fact, "extremely confidential." When he and others were looking to reach out to GAWDA members who were not yet participating, it was difficult to find out from CGA just who was participating.
From the time the program began, the policy has been clear, Dodd says: Data from individual companies are held in confidence and are not shared with any person outside of CGA staff, including CGA or GAWDA members.
Hill makes full use of the CGA benefit as well, keeping and updating copies of CGA publications. If a surprise inspection should occur, he's ready. He's also ready in case one of his employees should ask a question. As the president of a distributorship with fewer than 30 employees, he gets asked a lot of questions. 
GAWDA University
With roughly 2,600 alumni, GAWDA University has been instrumental in educating distributors and their employees across North America. What became GAWDA U. was created by Norco, the Boise, Idaho-headquartered distributor. The company has been sharing the online training program with fellow GAWDA members for nearly a decade. 
There are 41 courses focusing on safety and compliance, ranging from, "Acetylene Safe Handling and Storage," to "Toxicology and Exposure." The course titles have remained constant, says Michelle Zimmerman, compliance coordinator for Norco, even as the material has been updated to stay current with regulations.
Zimmerman is the person who gives GAWDA members access to the curriculum. Courses, all written, take as little as half an hour to complete. Getting started is far quicker, she explains. "It's very easy to use." The person who is going to be in charge of training at the member company – a "group manager" – can email her at [email protected] and register any number of employees.
She says the system is very user-friendly. Employees review the material in the courses, then at the end, take quizzes. A score of 80 or better earns a certificate. The group manager can track results as employees take courses and see how well they do on quizzes. Since the courses are online, they are available around the clock, Zimmerman adds. That allows some employees to take the training after hours, she notes. Additionally, courses can be retaken if an employee needs a refresher and if employees leave the member company and later return, GAWDA U. maintains their records, sparing them from retaking already-familiar training.
Even those who don't use GAWDA U. to train workers find it helpful. Dempsey prefers one-on-one training for Tech Air employees. She wants to look the worker in the eye to make sure the lesson is being absorbed, she recounts, because when it comes to fill-plant workers, "if he's pumping, his life is on the line." So, Dempsey has used GAWDA U. as a resource to build her own training programs and to create standard operating procedures. She says it also can be handy for retraining workers if there has been an incident.
Member-Only Publications
GAWDA members in need of sample safety practices sheets or other materials have a ready source at www.GAWDA.org. There's a member-only portal. Click into that and look to the left for "Member Only Document." Click on that link and you are at the folder for "GAWDA: Member Only Information."
Within that folder are documents displaying years' worth of GAWDA training and research. There are documents from webinars and documents explaining pressing safety and compliance questions. Some go back years. Others were posted just weeks ago.
Dodd explains that some of the documents are the result of work by members of the Safety Committee. Others came from seminars and webinars. Some may seem simple – there's a seven-page guidebook on how to back up a truck – while others are highly technical. For instance, changes in shipping regulations for hazardous materials specify not only the information required, but where on the form that information must be listed to avoid fines. Other documents work as sample safety practices that can quickly and easily be customized to serve the member business. Since the documents are easily customized, "You can take it and do anything you want with it," says Dodd. 
Badstubner adds that companies can make the documents suit their specific needs in a fraction of the time it would take them to research and write a manual on their own. That's something Hill says he has done, scaling the guidebooks and procedures to suit his business.
Discussion at Safety Committee meetings has helped prompt the creation of some of the materials. An incident in the field that got talked about at a meeting led to a written policy on transporting cryogenic gas cylinders by elevator. An elevator is a confined space and if a cryogenic cylinder leaked or even vented gas, everyone in the elevator could be in danger. The policy lays out how cylinders are to be transported to avoid risking any lives.
Regular Connection Articles 
GAWDA Magazine Welding & Gases Today carries safety and compliance articles written by GAWDA consultants each issue. In addition, the twice-monthly GAWDA Connection routinely offers a Safety and Compliance section. It includes updates from GAWDA consultants, plus regular pieces from Schweitzer alerting members to changes or pending changes in federal regulations.
Monthly Safety Organizer
The Online Safety Organizer is published monthly and is designed to provide GAWDA consultants' articles, along with pertinent GAWDA Headquarters releases.  GAWDA members can select an individual article or choose "Complete Set" to view and print all articles. At the end of the month these pieces are archived within the article directory for each consultant, making it easier to find specific articles when a need arises.
"It allows us to mention things that are going on right now," Badstubner explains. If regulators seem to be focusing on a particular area or trying a different tactic, it can be aired in the Safety Organizer. Likewise, if members are calling about a particular issue, indicating that it may be of broad interest, it can be incorporated into the organizer.
For instance, recently Dodd had been asked about handling DOT-imposed work-hour limits for drivers who hold a second job. He revisited and revised something he had written before. The next issue of the organizer addressed the matter, saving countless members from having to call. 
The timeliness of the articles in the Safety Organizer helps drive training at Tech Air, Dempsey says. She finds herself reading the Organizer and thinking, "how does that apply to my equipment, trucks and fill plant?"
Meetings, Seminars and Webinars 
GAWDA members have several opportunities each year to get expert safety advice in person from GAWDA consultants as well as their fellow members. While the internet has opened a slew of opportunities for GAWDA members looking to learn more about safety and related issues, there is still nothing quite like a face-to-face encounter to make sure questions are answered and answers are understood.
Regional meetings often include a discussion of safety issues. Each regional chair puts together a program of speakers and activities. This year, for instance, attendees at some Regional Meetings learned about welding fume extraction with a focus on hexavalent chromium, a chemical linked to health problems. Additionally, GAWDA consultants sometimes attend Regional Meetings. 
Of course, all GAWDA consultants attend the fall Annual Meeting and the Spring Management Conference. Badstubner, Dodd and Schweitzer staff GAWDA's booth during the Contact Booth Program and are available to meet with or just chat with members throughout the gatherings.
In addition, Dodd and Badstubner hold seminars each year to address specific issues. In 2017, there were spring seminars at Chart Industries in Ball Ground, Ga., and in July a webinar was broadcasted on the internet. This fall, the consultants plan a seminar at Weldcoa in Aurora, Ill.   
Thousands in Value
Listing out the safety offerings from GAWDA, Carr notes of its extensiveness that, "People would literally pay thousands of dollars for this stuff – or they wouldn't, they'd just say 'I'm going to try and do it myself.'"
The risk in doing it yourself is serious, and not just for a single company, Herring points out. Incidents have lessons that can apply at other member companies. Not sharing means denying others the opportunity to learn, and potentially leaving them at unecessary risk.
Further, costly errors at one distributor can impact everyone in the industry. Badstubner noted in his column in the summer issue of the magazine that hard-won respect from regulators can go away in a flash if one company allows a preventable mistake. For example, not stressing enough the need to never alter tamper-proof fittings on medical cryogenic containers could lead to a patient's death. "It must never happen," Badstubner says, his voice ringing with conviction.
Outlining the work of the Safety Committee, subcommittees and the many safety-related documents available to members from CGA and online, Herring says the goal is to come up with basic best practices that can make members, their employees and customers safer.
"We don't do it for our health," he says of the committee. "We do it for everyone's health."