What are the odds of a business reaching its 100th operational anniversary? According to Yale University Professor Richard Foster, they're not high. He finds the current average lifespan of a company listed in the S&P 500 index of leading U.S. companies is just 15 years — and that rate is falling.1
Defying these statistics is the O.E. Meyer Company, a Sandusky, Ohio, industrial/medical gases, welding products and specialty medical products distributor, now celebrating its centennial. The company's secrets to longevity include a commitment to and investment in its employees, strong working relationships with partners and the community, quality leadership and clear and consistent value propositions for customers.
In the Beginning
Like many successful distributorships, O.E. Meyer Co.'s beginnings were humble. Founder Carl F. Meyer got into the business in 1917 by offering welding repair services to companies in and around Sandusky. Within a year, he was operating as the Ohio Welding Company and was joined by his brother, Omar Meyer Sr., in the day-to-day operations of the welding shop.
When Omar Sr.'s sons, Omar Meyer Jr. and August "Gus" Meyer, became part of the business in the early 1930s, the company was renamed O.E. Meyer & Sons. The brothers oversaw several fundamental shifts in the company's operations. The market for industrial gases and welding equipment began to grow following WWII, and the brothers recognized an opportunity to expand the company's reach. In 1948, welding equipment and compressed industrial gases, as well as medical gases for hospitals, dental and physicians' offices, became new points of focus for the business.
Shortly after that expansion, Gus Meyer created a separate welding supply business in Toledo. In addition, the original welding repair business in Sandusky was sold, and it became known as the Lake Erie Welding Co.
Meanwhile, O.E. Meyer & Sons was working to grow its new product lines. It quickly outgrew its original facility, and by the mid-1960s it opened branches in Galion and Lorain, Ohio.
In 1967, Rodney Belden joined the company's 16 employees as general manager. He was instrumental in the growth and development of the company and served in several roles, including as CEO. Belden recognized greater potential in medical markets and oversaw the establishment of O.E. Meyer's Medical Division in 1976. While the medical market represented fewer than 10 percent of total company revenues at that time, the addition of new resources to service that growing market quickly changed that equation. What's now called the Hospital Division represents 20 percent of sales today.
The company added another division to service the home health care market in 1984. It served the rapidly expanding medical gas outpatient market that was being fueled by federal Medicare/Medicaid reimbursement policies and other factors. As federal policy kept shifting over the next 30 years, though, home health care became a challenging business for independents. Consequently, O.E. Meyer recently sold its division to Toledo-based ProMedica in 2017.
Transitions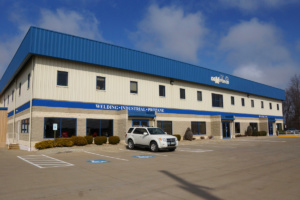 O.E. Meyer & Sons operated as a family-run business until Jan. 1, 1989, when Omar Meyer Jr. sold the company to his 57 employees. As an employee stock ownership program (ESOP) business, the company maintained its systems and its management team, but was renamed O.E. Meyer Co. Leadership transitioned from Omar Meyer Jr. to Rodney Belden as CEO, Craig Wood as vice president of the industrial division and David Belden as president of the health care division.
Under Rodney Belden's leadership, the company continued to thrive. In 1997, O.E. Meyer purchased 10 acres of land on Tiffin Avenue in Sandusky and in 1999 built a 16,500 sq. ft. industrial and medical gas filling plant on the site. The company also developed a 47,000 sq. ft. corporate facility in 2001. It provided space for office, retail, warehouse and service capabilities, and that building continues to serve as company headquarters today.
Recognizing strong regional demand for propane in the residential heating market, O.E. Meyer Co. also added a propane division in 1999. Terry Clevenger, who heads that group, said the division enables the company to serve its propane customers well.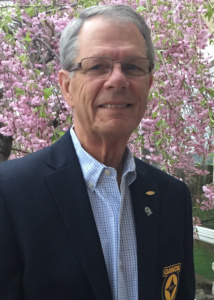 The company's next step was the addition of a CO2 division in 2012, which today offers beverage-grade CO2 to the restaurant, bar and microbrewery markets.
Rodney Belden retired as CEO in 2015. (He passed away in June 2018; see his obituary in the "In Memoriam" section located toward the back of this issue.) At the same time, Craig Wood took over as chairman of the board and CEO. Dave Spencer filled Wood's seat as president of the industrial division.
The Company Today
Wood now oversees an employee-owner group of 105, and a full 100 years after the company's founding, he manages it with the same set of core family-business values. "Very simply put," said Wood, "we treat our fellow employee-owners, customers and supply partners the way we would expect to be treated!"
Investing in the future
Since assuming his role in 2015, Wood has led the O.E. Meyer Co. team by adding even more value propositions for customers.
One of those most recent projects is cylinder barcoding. The company partnered with fellow GAWDA member Computers Unlimited in 2016 and began applying barcode labels to its entire inventory of high-pressure cylinders, cradles, liquid cylinders and forklift propane cylinders. Cylinder tracking using handheld scanners was also implemented on two truck routes in 2017, giving the company the ability to better monitor its cylinder operations. With both plant managers and drivers finding this new technology helpful, the company plans to implement the tech tracking process company-wide by the end of this year.
Spencer  explained that decision: "We chose to barcode cylinder assets to ensure that our customers were being invoiced correctly, as a tool to rectify and correct cylinder discrepancies and to monitor our assets in support of growth. This is an investment in our future, as well as our customers."
Wood, who served as GAWDA president in the 2012–2013 term, attributes much of the company's success to its participation in that association. "We take full advantage of our industry consultants. This group's input is especially critical to the effectiveness of our safety and compliance programs," he explained. "GAWDA's Contact Booth Program has been a vital resource for identifying new suppliers, a critical element in being able to provide our customers with the best products available."
Growing Operations
In 2015, the company upgraded its plant with the latest technology in gravimetric filling, enabling it to fill more accurately and improve efficiencies.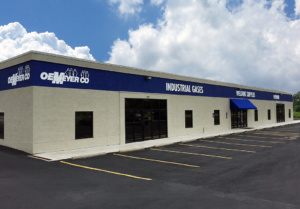 Increased product demand in the past few years also has allowed O.E. Meyer Co. to expand its cylinder fleet and to purchase new tractors, trailers and box trucks to service its expanding customer base. These new vehicles have enabled the company to become more efficient and to provide the right footprints to accommodate given market needs and payloads.
An Eighth Site
Late last year, O.E. Meyer Co. opened its eighth branch location in Columbus, Ohio, allowing the company to reach new markets in the central part of that state. Wood explained, "Our Columbus facility represents the final leg of our long-range expansion plan, which began some 10 years ago. Situated on nine acres, this new branch gives us the space to service our Columbus market and to accommodate future growth."
Today, O.E. Meyer Co. reaches 31 out of the 88 counties in Ohio through its eight branches. They are located in Sandusky, Bowling Green, Fremont, Galion, Garfield Heights, Lorain, Walbridge and Columbus.
A Specialty Provider
While O.E. Meyer Co. chose to leave the direct patient health care business, the company continues to be a specialty provider of innovative products and consultative services to that market.
David Belden noted, "We continue to serve the acute-care market with a focus on enhancing the standards of care for anesthesia, respiratory, nursing, emergency and intensive care providers. Also, we maintain a biomedical staff to provide on-site and field services, including equipment management, environmental monitoring, medical gas analysis and verification and anesthesia preventative maintenance."
The company has served medical gas markets since 1948, and today, it sells and distributes oxygen, nitrous oxide, breathing air, carbon dioxide, helium and specialty mixtures. Medical gas delivery equipment, including wall outlets, zone valve boxes, alarms, gas manifolds, nitrogen control cabinets, air compressors and vacuum pumps, are also provided by the company.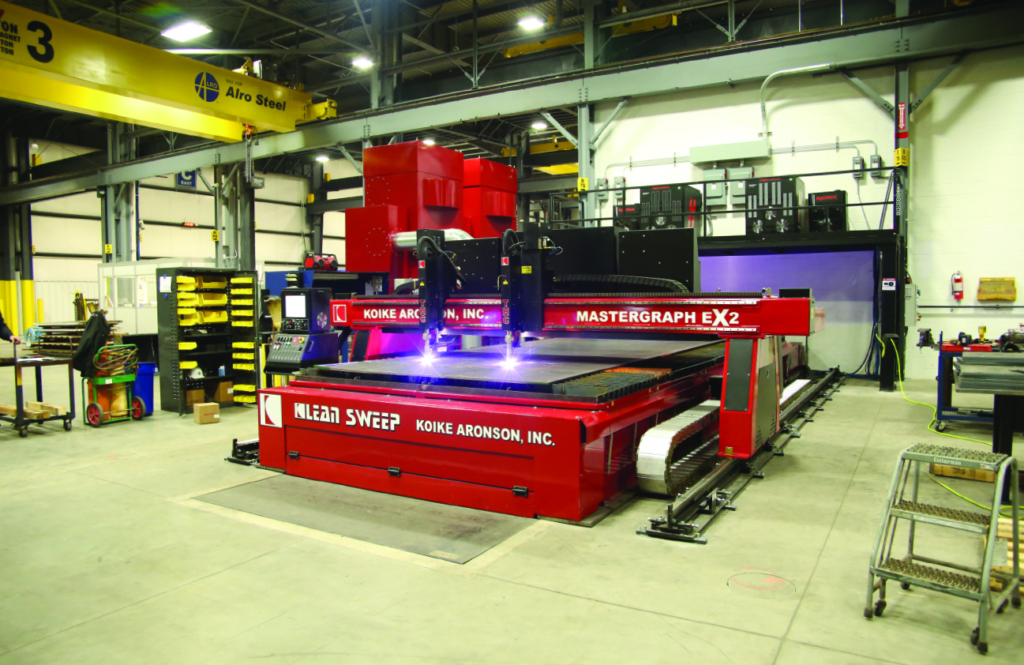 Technical Selling
A real asset is the company's location in the heart of one of most productive fabrication regions in the country. Automated equipment and systems for cutting and welding are driving activity in this market. Once limited to only the largest machine shops, these new technologies are now increasingly being adopted by medium and small fabricators.
Wood explained, "We see more and more robotic welding and CNC plasma cutting applications in our market every day. As a result, we continue to be committed to investing in the kind of education necessary to support customers who are adopting these new technologies. With our in-house knowledge of robotic operations, the company has expanded its offerings beyond welding applications to material handling, machining, grinding and robotic cutting solutions."
The company is deeply committed to keeping its employees well-educated on all product lines and related processes and considers technical selling to be an important element of the O.E. Meyer Co. business platform.
Wood believes that technical selling is more important today than ever before, given the struggle its customers have finding qualified and skilled labor. The ability to problem-solve is critical to sales of new technology, he notes, and so training team members in technical selling has become essential to the firm's success in new-equipment markets. The company carefully crafts partnerships with suppliers to ensure that its team is knowledgeable about the products it sells and installs.
Wood said, "We continue to grow our sales team by adding those who have industry experience, combined with good problem-solving capability and technical skills. We want to offer solutions that empower our customers to enhance productivity, quality and efficiencies beyond their expectations."
O.E. Meyer Co.'s 21st century automation team provides customers with the technologies needed to produce parts more precisely and more efficiently — creating a value-added proposition for its customers. In its 100 years in business, the company has grown from a simple welding repair shop to an operation proud of its ability to design, build, integrate and service the most complex automated welding and cutting systems on the market today.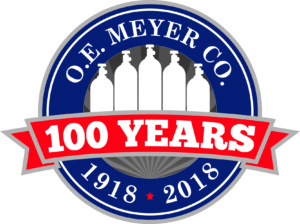 Celebrating 100 years
Success at O.E. Meyer Co. is based and measured on customer satisfaction. Whether solving a metal fabrication problem or delivering innovative product to the patient-care industry, O.E. Meyer Co.'s mission is customer-centric and designed to help others enhance their productivity and efficiency.
Each year, O.E. Meyer Co.'s goal is to become a better, more efficient and more successful company, and to provide its customers with superior services and products. Though this is the company's centennial, this year is no different. The company is marking 100 years in business by continuing to strengthen its offerings and the service provided to its base, Wood noted.
"Being the biggest distributor in our marketplace is of no interest to us," said Wood. "We focus every day on being the best distributor, knowing that tomorrow will be our first opportunity to improve on what we did today."