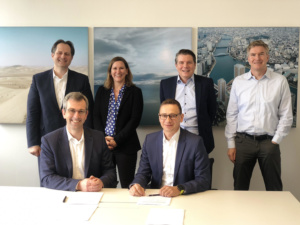 Canadian clean technology innovator CarbonCure Technologies and Linde, the world's largest industrial gas supplier, have partnered to introduce the award-winning CarbonCure Technology to Europe, Southeast Asia and Oceania. The alliance will allow CarbonCure to accelerate international adoption of CarbonCure's turnkey carbon solution for the concrete industry.
The CarbonCure Technology enhances the competitiveness of the concrete industry through improved production efficiency and sustainability. The technology injects a precise dosage of captured waste carbon dioxide (CO2) into concrete during production. Once introduced, the CO2 chemically converts to a nano-mineral, creating manufacturing efficiencies while reducing the concrete's carbon footprint. This enables private and government concrete end users alike to reduce the carbon footprint of construction projects without compromising quality.
Through this alliance, Linde and CarbonCure will work together exclusively to introduce the CarbonCure Technology to 25 countries across Europe, Southeast Asia and Oceania, with initial efforts focused on Germany, Sweden, Switzerland and Singapore. CarbonCure announced its foray unto the international stage in November 2018 through a partnership with Singapore's leading producer, Pan-United Concrete.
"We are very excited to work with CarbonCure to bring this ground-breaking technology to so many new countries. This cooperation will strengthen Linde's offering for the construction industry," says Ulrich Hanke, Head of Commercial Management for Primary Industries, Application Technology at Linde.
The CarbonCure Technology is installed in nearly 150 concrete plants in North America and Southeast Asia, with more than 2.3 million cubic metres of concrete supplying a wide range of construction projects from airports, roads to high-rise towers. The company is on a pathway to reduce 500 megatons of CO2 emissions annually.
"We know that scaling up to reduce 500 megatons of CO2 each year will require world class alliances. With Linde, the world's largest industrial gas supplier, we will enjoy unrivaled scaling ability to accelerate global deployment," says Rob Niven, Chief Executive Officer and Founder of CarbonCure.
"The concrete industry is redoubling efforts to meet the needs of Smart Cities by adopting circular economy solutions to lower the resource consumption and embodied carbon intensity," Niven says.
CarbonCure is the world leader in carbon capture and utilization (CCU) technologies used in the production of concrete, which is estimated to be a $400 billion market opportunity with the potential to reduce up to 1.4 gigatons of annual CO2 emissions by 2030, according to the Global CO2 Initiative.
View other August 15 news items

• The Harris Products Group Expands Specialty Gas Solutions
• Rodney Huber Announced as President of Huber Supply Company
• Anova Welcomes William Kroll as its First Advisor
• ABICOR BINZEL Adds new District Sales Manager
• Messer Sells Business in Denmark
• Air Products Completes Acquisition of GE's Gasification Business and Technology