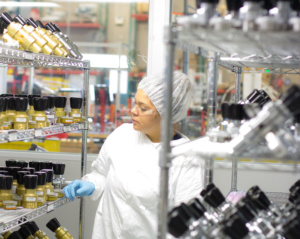 The Harris Products Group announced it has expanded its specialty gas products business to better serve customers in this rapidly growing sector.
To meet the high standards required for manufacturing specialty gas products, Harris has extensively invested in its Gainesville, Georgia, operation to provide new turnkey gas distribution solutions that include in-house engineering design, manufacturing, testing and fulfillment of a full spectrum of standard and customized products at exceptional speeds.
To help distributors support spec gas customers, the Harris customer service team now provides application recommendations for the most appropriate spec gas regulator from among the thousands of potential configurations. Once approved by the distributor, the order is sent into production and shipped within 24 to 48 hours on most models.
"The decision to expand our specialty gas group advances our growth strategy and enhances our ability to better serve our distributors," said David Nangle, President of The Harris Products Group. "We bring together the best equipment, processes and personnel, which maximizes our value proposition to our customers."
As part of the expansion, Harris has invested in a new assembly line, a streamlined fulfillment process and a new cleanroom (class 7 according to ISO 14644-1:2002) for regulator assembly, helium leak detection, functional testing at nominal pressure, and vacuum bag packaging.
These investments are in addition to new solutions including manifolds, gas cabinets and beverage systems.
View other August 15 news items

• The Harris Products Group Expands Specialty Gas Solutions
• Rodney Huber Announced as President of Huber Supply Company
• Anova Welcomes William Kroll as its First Advisor
• ABICOR BINZEL Adds new District Sales Manager
• Messer Sells Business in Denmark
• Air Products Completes Acquisition of GE's Gasification Business and Technology