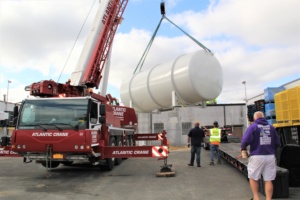 The latest addition to Airweld's LN2 Self-Sufficiency Initiative arrived Friday, August 23rd, when a 14,000-gallon tank was delivered to the Farmingdale, New York, facility. The 65,000-pound vessel was installed on a new concrete pad August 26th.
"This is the next phase of the program we launched several months ago," said Airweld President Eric Lundquist. "This tank, along with the two new liquid nitrogen trucks we inaugurated in July, will ensure our customers an uninterrupted supply of liquid nitrogen," he added.
Noting that severe weather has plagued deliveries from Airweld's major supplier in the past, Lundquist says the new tank will provide a buffer to service customer needs.
View other September 1 News Items: