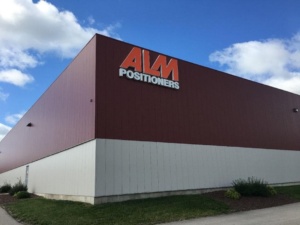 Having an organized career path ahead of you can be very important as high schoolers are nearing graduation and are thinking about their futures. ALM Positioners has found a way to get involved and offer their knowledge.
Davenport Community School's High School Welding Registered Apprentice program is new for the 2019 year. The majority of students that are starting in this program have established interest in welding and they are taking the opportunity head-on. They complete pre-requisite courses through their respective high schools. Upon application and acceptance, they can take advanced courses through Eastern Iowa Community Colleges' Blong Technology Center while working at local companies to become a licensed apprentice.
Kevin Toft, President at ALM Positioners said: "Today, in manufacturing industries, we are seeing a lack of skilled tradespeople coming in as new employees. Our main goal with being a part of this program is to lend our resources to better prepare the students for the future".
ALM Positioners brought on Blake Linz, a senior at Davenport West High School in June 2019. Blake thought this apprenticeship program would be great for him to further his knowledge and continue his love for welding. He said: "I have learned a lot already since I started from reading blueprints, learning welding positions, squaring up positioners to learning more about the tape measure."
Blake is currently working full-time at ALM during the summer and will work part-time during his senior year. Following the apprenticeship program, he said he would like to keep working in welding and absorb any information that he can to continue learning.
Kevin said: "This program will allow these students to get a big head start on their careers. They will learn job specifics, life skills, responsibility, and teamwork".
If you or someone you know would be interested in this program feel free to contact Melanie Bennett at 309-787-6200 for more information.
View other September 1 News Items: