When it comes to a digital presence, the first go-to-market tactic is typically organic search engine optimization (SEO).
SEO involves configuring your website to rank at the top of the search engines for free (also called organic). Establishing high rankings is about two things: relevance and authority. In this article, I'll focus on relevance and provide you four tips and one free gift to help you capture valuable traffic for your website.
Tip 1 – Your URL Should Contain Your Target Keyword
Let's say you want to rank for the term "welding training Syracuse, NY."
The first thing you should do is create a page with a URL that looks like this – www.mycompany.com/welding-training-syracuse-ny/. 
Why Are URLs important?
Because URLs serve as Google's first clue about the subject matter of that web page.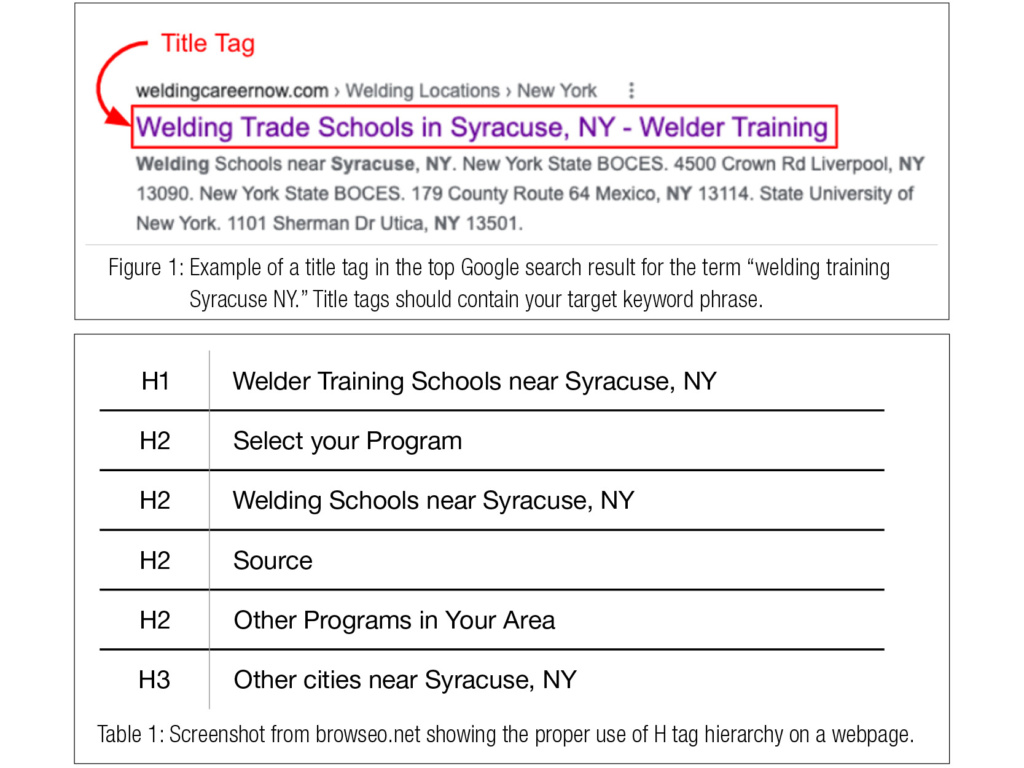 Tip 2 – Your Title Tag Should Contain a Variation of Your Main Keyword
In website lingo, a "title tag" is an HTML element that serves as the title of that web page.
It gives the reader (and Google!) an indication of the content's subject.
Title tags aren't easily visible on the web page itself. Rather, they are displayed by the search engines at the top of a listing. Figure 1 on the next page is a screenshot taken from Google when I searched for the term "welding training Syracuse, NY." Title tags should be between 50-60 characters long.
What should you do?
Check your title tags to see that they have been deliberately written and assigned to your web page and are in alignment with the rest of the content on your page.
If I want to look at the title tags for an entire website, my favorite tool to use is Screaming Frog. Visit https://www.screamingfrog.co.uk/ to download the free version of Screaming Frog.
Tip 3 – The Big Bold Text at the Top of Your Web Page Should Contain Your Target Keyword
The text at the top of most web pages, just under the website's navigation, is normally bold and bigger than the rest of the text on the page. This draws attention to that text and provides visitors (and Google) another clue about the subject matter of the page.
When done properly, developers code that text as an H1 tag. In simplest terms, H tags are a convenient way for developers to assign a different size, color and/or font to the visible content on a web page. H tags, which stands for headline, can be named H1, H2, H3, H4, H5 or H6 and typically vary in size and style.
H1's are the most important.
Think about H tags as the table of contents for a single web page. Every web page should have only one H1 tag. Under the H1 tag, you will likely have one or more H2's. Under the H2's you may have H3 tags (sub-headlines of the H2), and so on.
In between each H tag, you would normally find body text.
How can you check your website?
The URL for the page shown in Figure 1 is: https://weldingcareernow.com/welding-schools/syracuse-ny.
Paste that URL into this free tool www.browseo.net to identify the structure of the page and specifically the use of H tags. See Table 1 to the right.
Notice how each H2 relates contextually to the H1 and that the use of the H3 "Other Cities Near Syracuse, NY" is a logical subtopic of the H2 "Other Programs in Your Area."
Make sure your web pages contain a similar structure.
H TAG

QUESTION (TOPIC)

MONTHLY SEARCH VOLUME

H1

Welding Training Available in Syracuse, NY
(add 50-150 words)

H2

how long is welding school (add 50-150 words)

1300

H2

what are the education and training requirements for a welder
(add 50-150 words)

30

H3

how difficult is welding school (add 50-150 words)

20

H3

what is the best welding certification
(add 50-150 words)

70

H2

where can I take welding classes near me
(add 50-150 words)

70

H2

how much is welding school (add 50-150 words)

590

H2

how to get a welding job after school
(add 50-150 words)

10
Tip 4 – Use Internal Links to Establish Authority and Acknowledge Context to Your Web Pages
Links to a page can either be internal from the same domain (your own website) or external from other websites. For this article, I'll focus only on internal links or links from within the same domain.
Let's say that we wanted another bump to get the welding training in Syracuse, NY web page onto the first page of Google.
The next step would be to review the other pages on the website and find ways to link from the content area of those pages to the "Welding training Syracuse, NY" page.
For example, we could write two or three sentences on the About Us page about welding training and insert a link to the "Welding Training Syracuse, NY" page. Here's how that might look.
We are proud to provide our local Central NY community with the highest quality welding equipment and work hard to deliver great service. For those new to the trade, be sure to check out our welding training classes right here in Syracuse, NY.
You'll want to link back to your target page at least 5 to 10 times throughout your website. Be sure to include your target keywords in the anchor text (the blue underlined text) about 80% of the time.
How do I check my internal anchor text?
Warning! Several of my coworkers said that the below section was too complicated and that it might hurt your head. So, if you don't feel like reading the rest of this section, either watch this YouTube tutorial on Screaming Frog –
https://bit.ly/3mdyyyk or email or call me.
In Screaming Frog, enter your domain name in the box immediately to the right of the logo. Hit start. Once the crawl is complete, select the URL you want to investigate in the upper pane.
At the bottom of the lower pane, select "inlinks." You should now be looking at all of the internal links to the page you have highlighted in the upper pane. Click the export button in the lower pane and paste the data into a spreadsheet.
This will tell you which pages are linking to your target page. Next, visit those pages, read the content and find a way to include a link with your target keywords as the anchor text. Repeat this process until you have 5-10 links pointing to your target page.
My Free Gift to You
I want to help you capture some extremely valuable search engine traffic by creating one or more new web pages that are certain to rank well in Google, especially if you incorporate what you've learned in this article.
Step 1: Download this spreadsheet – bit.ly/GAWDAseo
Use the above link to download a Google Sheets spreadsheet containing more than 4,000 welding-related questions which generate more than 145,000 Google searches every month.
Step 2: Select a topic to write about.
Review the questions people ask Google and select a topic to write about. Do this by filtering the data by cells containing different keywords like steel, MIG, TIG, aluminum, job, etc.
As an example, I found 73 questions with a combined monthly search volume of 3,350 by filtering for words like training, class, school, and certification.
Step 3: Select the questions you want to answer and create a page outline.
In the column titled "Questions most relevant to my business," select the questions you want to write about. Next, create an outline with H tags (described above in Tip #3).
Step 4: Write and publish
Now that you've identified keywords relevant to your business, and you've created an outline for your page, it's time to start writing.
Add 50-150 words below each topic. When you're done, publish the page adding a link to the page from your top navigation bar and elsewhere as described in Tip #4.
Table 2 lays out the page we've been discussing.
Final piece of advice.
I'm excited to share this approach with you. There's a lot here and I have tried to be brief. If you have any questions or want to share your success, feel free to give me a call.