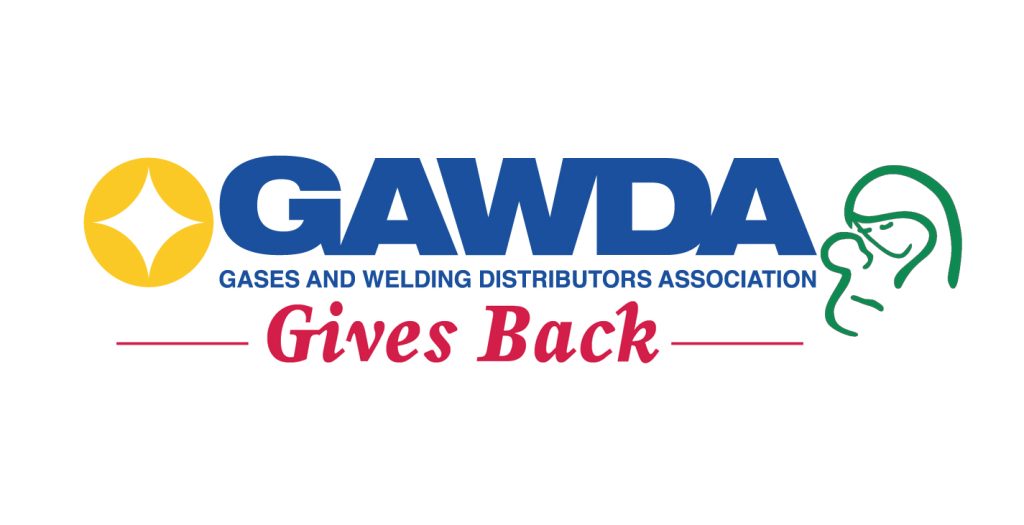 Presentation of GAWDA Gives Back Award
Robert then welcomed his beautiful wife Missy and his middle-son Kyle to the stage to discuss the recipient of the 2023 GAWDA Gives Back Award, the Malama Family Recovery Center. Missy discussed how the charity was near and dear to the family's heart before turning the mic over to Kyle who gave an incredibly raw and powerful speech about his own history with substance abuse and how he was able to escape the other side of the darkness. When he was finished, there wasn't a dry eye in the house.
Then, representatives from the Malama Family Recovery center came to the stage for the presentation of the GAWDA Gives Back Award. And GAWDA Members outdid themselves this year, raising more than $325,000 for the charity, leaving the representatives nearly speechless. The Center's Program Director gave an effusive speech thanking members for their generosity and gave a traditional Hawaiian thank you to the assembled crowd.
Thank you to the GAWDA Gives Back Donors
CORPORATE
Diamond
Air Products   
Eleet Cryogenics
Holston Gases
ITW Welding 
Linde
Meritus Gas Partners
Roberts Oxygen Company, Inc.
Platinum
Airgas, an Air Liquide company
Gold
Air Water Gas Solutions
A-L Compressed Gases
American Welding & Gas       
EspriGas
General Distributing Company
Hypertherm, Inc.       
MK Products  
Silver
Arc3 Gases
Astaras
CO2Meter
General Air Services & Supply
Industrial Source
Keen Compressed Gas
Norco, Inc.      
Norris Cylinder
Purity Cylinder Gases
Red Ball Oxygen         
Seven Springs Regional          
Vern Lewis Welding Supply, Inc.        
WESCO Gas & Welding Supply, Inc.   
Bronze
AGL Welding Supply
California Cylinder
Central Regional        
Chart Inc.
Earlbeck Gases & Technologies
Gas Innovations         
General Distributing Company            
Keen Compressed Gas
Lampton Welding Supply
O.E. Meyer Co.
Oxygen Service Company
Ozarc Gas Equipment & Supply, Inc.  
S.J. Smith Co. Inc.         
South Jersey Welding Supply Co        
Welders Supply Company        
US Tank & Cryogenic Equipment, Inc.
Contributor
Airweld, Inc.   
Andy Oxy Company, Inc.        
Butler Gas Products
CK Supply       
Indiana Oxygen
Leonard's Syrups        
Minneapolis Oxygen Company          
Oxylance        
Purity Cylinder Gases Inc.      
SafTCart
Sky Oxygen
Sutton Garten Company                     
W. Smith Corp.
Supporter
ANOVA
Carbide Industries      
Chemweld      
EQUIGAS, Inc.
Flame Technologies   
Ivey Industries Inc.       
Kalas Manufacturing, Inc.      
Friend
Alliance Distribution Partners
Buschbach Insurance
California Welding Supply      
DeLille Oxygen Co.     
Messer LLC
Professional Welding Supply
Weldcote
Willard C. Starcher, Inc.
Founders Club
Anders, Robert & Missy                     
Mahoney, Dave & Donna
Roberts, Bob & Eveline                                     
Presidents Club
Members Club
Marchant, Mechelle
Roberts, Julia
Thornton, Robert                  
Contributor
Anderson, David
Biedermann, Thomas
Brant, Walter      
Iskra, Sherri
Kissler, James
Lane, Ned
Lovin,Nicholas (Britt)
Nyhuis, Doug
Visintainer, Bill                        
Wood, Craig        
Supporter
Badstubner, Tom
Brant, Wally           
Chromy, Tom
Dunton, john
Robinson, Lloyd
Squibb, Randy   
Wimberley, John
Wood, Eric & Paula          
Friend
Hall, Terry             
Harder, John
Higley, William                        
McCall, Jenny     
Monahan, Roch
O'Malley, Felim
Peterson, Brad     
Van Pelt, Megan  
Van Pelt, Scott     
Yates, Charles