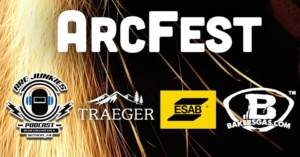 Baker's Gas is hosting ARC FEST 2019! The event, which takes place at Baker's Gas & Welding Supplies Monroe, Michigan, location will feature welding, grilling, & BBQ! Jimmy McKnight with the Arc Junkies Podcast will be at Baker's Gas for his first annual Arc Fest. ESAB will be onsite with live demos including the Rebel 205 AC/DC multiprocess welding machine and other Rebel models. Treagering, networking and welding we hope to see you there!
Arc Junkies podcast will go live at 10 a.m.! If you want your questions answered – leave a comment on the event and Arc Junkies will be sure to answer them on the Podcast or Instagram live feed!
**Exclusive deals at the event on ESAB equipment and Treager grills.
If you can not join for the event make sure you listen to the Podcast and watch the Instagram feed for live footage!
https://bakersgas.com/collections/esab
View Other September 15 News Items: