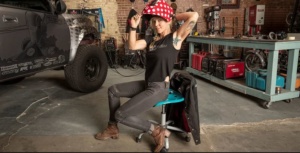 Jessi Combs was a racing legend known as the "fastest woman on four wheels." She was a fixture on television auto shows, co-hosting Spike TV's "Xtreme 4×4" and appearing on "Mythbusters," "Two Guys Garage," and "All Girls Garage." Combs competed as a racer in many venues including a top ten finish in the Baja 1000. She set a four wheel land speed record for women drivers in 2013 with a run over 398 miles per hour. She died while attempting to break her own land speed record and Kitty O'Neil's fastest woman in the world record of 512 miles per hour in a dry lake bed in Oregon.
Jessi was intimately involved with the welding industry, as both a fabriactor and through her partnership with Lincoln Electric through their Women's Welding Gear line of apparel. Jessi was an incredible role model for girls and women in the field and she will be incredibly missed.
Lincoln Electric released a statement that said:
"Our team, around the world, is saddened to learn of the sudden and untimely passing of our friend Jessi Combs.
Jessi was a woman of many talents: racer, custom builder, television host and advocate for women seeking careers in welding, fabrication and related trades. As such, she was a highly respected member of the extended Lincoln Electric family. She consistently generated a level of energy and enthusiasm that reverberated throughout the industries she represented.
Our thoughts and prayers are with Jessi's family and her wide circle of friends. She impacted countless lives in a positive way, and she will be missed by many."
Here is a link to an article detailing Jessi's 17 Biggest Achievements.
View Other September 15 News Items: