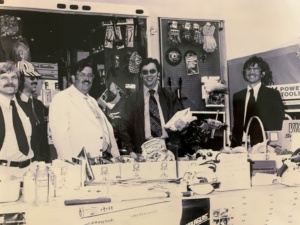 GAWDA extends its condolences to the friends and family of Dennis J. Mahony, who passed away May 31, 2020. Noble Gas Solutions President/CEO J. David Mahoney wrote on the Noble Gas Solutions website:
It is with great sadness that I announce the passing of Dennis J. Mahony, President and owner of Albany Welding Supply from 1973-1986. I started my career with the Company in the summer of 1976, and worked under his leadership for the following 10 years before purchasing the business from him in 1986.
Dennis was a great friend, a mentor and a very smart businessman. I learned a lot from him over the years. The Company had been founded by his father Robert in 1940. Dennis lost his Dad and older brother Robert Jr. in the early 1970's while they were both still very active in the business.
Dennis was thrusted into a leadership role and handled the change with professionalism and class. Here is a picture of Dennis along with his sales team at the Altamont Fair during my first week of employment with the Company. He is shown in the white sports jacket. I'm the long-haired kid on the right.
I had no experience in sales when he hired me. He obviously saw something and was willing to take a chance on me. I will forever be grateful to him for giving me such a great opportunity.
Dennis was an avid golfer and a longtime member of Wolfert's Roost Country Club. He introduced me to the game in 1977. I have many fond memories of our rounds of golf together. Dennis was 80 years old at the time of his passing.
Rest in Peace my dear friend. I will never forget you!
Read Other June 15 Connection Items: