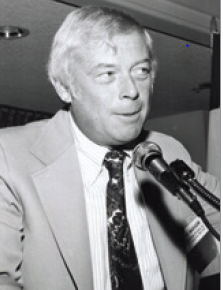 GAWDA extends its condolences to the friends and family of Edward Madison (NWSA President 1973-74) who passed away on June 6, 2020, at the age of 92.
Ed was the owner of Prest-O-Sales & Service, Inc. (Long Island City, NY) until his retirement in 1993.
Ed was born in Devonshire Parish, Bermuda and raised in Flushing, NY. He attended high school at the Valley Forge Military Academy. In 1945, he joined the marine engineering program at the US Merchant Marine Academy for two years before transferring to Cornell University. At Cornell, he studied Mechanical Engineering and Industrial and Labor Relations, graduating in 1952. He then served as a finance officer in the US Army at Fort Harrison, Indianapolis, where he met and married his wife, Nancy.
Ed began his career as a sales engineer in the mid-west for Armstrong Corp. before relocating to NY in 1956 to take the helm at Prest-O- Sales & Service, Inc. In the early sixties, while growing a business and raising a family, Ed earned an MBA from Long Island University. He was active in the welding supply and gases industry, serving as NWSA (now GAWDA) President and on numerous distributor advisory boards. His strong sense of volunteerism also led him to many leading roles in community affairs, including the first hospice pilot program in NY and as a two-term Mayor of the Village of Sands Point, NY.
Ed was an avid sailor, sailing the waters around Long Island, the Caribbean and in multiple Newport-Bermuda ocean races. He played a lot of tennis and eventually turned his attention to golf as well. Ed and Nancy traveled extensively throughout the world.
Those who knew Ed recall him as an eloquent orator, but his greatest satisfaction came in listening to other people. He loved his dogs and he had a keen interest in protecting our natural assets for generations to come.
Ed spent his last months under the compassionate care of Trail Winds Hospice in Boulder. He is survived by his wife of 67 years, Nancy, his children Douglas, James (NWSA President 01/02), Sherry, and Susan, as well as four grandchildren.
Read Other June 15 Connection Items: