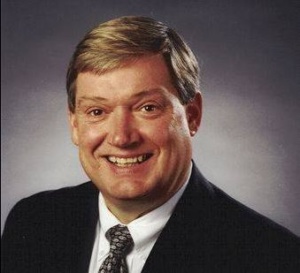 John Christie, who served as the President and COO of Worthington Industries from 1999-2008, passed away suddenly at his home on Saturday, October 5, 2019. He was 69 years old. A community advocate, a loyal Blue Jackets fan and a charismatic leader, John will be missed by all who knew him. John was preceded in death by his wife Linda Margaret Christie and his parents Robert Samuel and Sara Jane Kennard Christie of McConnelsville, Ohio. John became President and Chief Operating Officer of Worthington Industries in 2000 before retiring in 2008 to take care of Linda, who suffered from a debilitating illness until her death a year ago. John loved and adored his family, especially as a doting grandfather while suggesting his grandchildren call him JC. He is survived by his three children and their families all in Columbus, Robert Morgan (Erica) Christie, Lindsey Taylor (Tyler) Burt, Sara Jo (Norm) Harbison; grandchildren, Carsen Jane and Joshua Cole Christie; Hazel Jo, John Harpham and Molly Margaret Burt; and Austin James Harbison. John is also survived by his brother, Robert James (Chris) Christie and his wife, Marcia Emens Christie of McConnelsville; his sister, Mary Christie McIntyre, her husband, John F. McIntyre; nieces and nephews; and Linda's mother, Sara Prater.
In lieu of flowers, contributions may be made to Columbus Blue Jackets Foundation, 200 W. Nationwide Blvd., Columbus, OH 43215, www.bluejackets.com/community or to The Upper Arlington Education Foundation, 1950 North Mallway Drive, Columbus, Ohio 43221
To read John's full obituary, click here. To share a special memory of John or to sign his online guestbook, please visit www.schoedinger.com.
Other October 15 Connection Items: