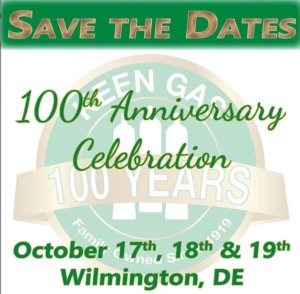 Keen Compressed Gas Co. is celebrating its 100th anniversary this year.
A three-day celebratory event is scheduled for October 17th, 18th and 19th at Keen's headquarters in Wilmington, Delaware. Each day will consist of an open house and vendor trade show along with live demonstrations, a variety of seminars on the industry's hottest topics, food and give-a-ways. Vendors have donated items from welding machines, welding apparel, gift cards and so much more to be gifted to random winning attendees. Keen will also provide commemorative items to attendees.
Over 30 top industry manufacturer representatives will be in attendance including Miller Electric, Hypertherm, Messer Gases, Lincoln Electric, Walter Surface Technologies, Metabo and many more. Vendors will have display booths and offer expertise on all product offerings and applications. Most vendors will discuss industry hot topics, provide product demonstrations and offer hands-on opportunities for attendees. Several vendors are also offering "best of the year" special pricing on products for this event.
Miller Electric and Lincoln Electric will have virtual welders onsite for attendees to try out. The Miller Electric Road Show will be present. The Road Show offers attendees the chance to look at and demo a variety of products while having the Miller team to offer expertise of projects and processes.
Safety and application seminars will take place in Keen's new conference room. These are free but seating is limited, so registration is required. Seminars include Oxy-Fuel Safety, Safe Cylinder Handling and Abrasive Safety.
Thursday, October 16th will feature a ribbon cutting ceremony at approximately 11:00 a.m. where representatives from state and local offices are expected to attend. It will take place at Keen's newly constructed automated cylinder gas fill plant. Local news entities are expected to cover this milestone event. The ceremony will recognize Keen's multi-million-dollar investment into their future.
On Friday, October 17th, Keen will host over 150 Vo-Tech students from Delaware, New Jersey, Maryland and Pennsylvania for a special Vo-Tech Day concentrating on skilled trades and career opportunities.
The three-day 100th Year Celebration: Open House and Trade Show will be located at 4063 New Castle Avenue, New Castle, Delaware, Thursday, October 17th from 8:00 am to 5:00 pm, Friday, October 18th from 8:00 am to 4:00pm, and Saturday, October 19th from 8:00am to 12 noon. All are encouraged to attend.
For more information, visit www.KeenGas.com/100YearsKeen. Watch or participate in the social conversation with #100YearsKeen.

Other October 15 Connection Items: