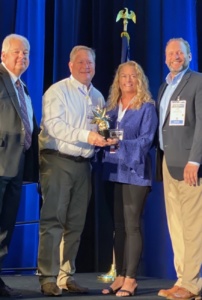 A Cornerstone of Southeast Texas family owned businesses recently received national recognition for their contributions to the welding industry. Coastal Welding Supply, Beaumont, Texas, was named the recipient of the Excellence in Welding Awards Distributor for 2019 at the annual Gases and Welding Distributors Association (GAWDA) convention in Washington, DC in October. The award was created by the Welding Equipment Manufacturing Committee (WEMCO). As a Standing Committee of the American Welding Society (AWS), WEMCO created the annual Excellence in Welding Awards 16 years ago, to recognize individuals and organizations that are instrumental in raising the image of welding and strengthening the industry, and have shown exemplary dedication to promoting the image of welding in their communities.
During the presentation, the presenters centered on the accomplishments of Coastal Welding Supply. Founded in 1963 by A.L. "Al" Mazoch, the company has evolved from a single source location in Beaumont, TX, to 10 locations throughout Southeast Texas and Southwest Louisiana. Today, Coastal remains the largest, independently family owned welding and specialty gas distributor in the Gulf Coast region led by Al's son, J.C. "Chuck" Mazoch, after his passing in 2009.
A multifaceted business platform has contributed to the company's success.
Coastal is a key supplier to petrochemical and refinery projects, and other industries for welding products, construction equipment, contractor items and PPE/ safety products; and a strong component of their offerings includes the production, calibration/testing and delivery of industrial, specialty and medical gases in the U.S. and internationally.
According to WEMCO, a key factor in receiving the Distributor's Excellence in Welding Award is Coastal Welding Supply's dedication to the promotion and advancement of the welding industry. Coastal partnered with iHeart radio to create a campaign encouraging young people, and those looking to make an employment change, to consider a career in welding. Coastal also produced a television commercial that tells the story of the need for welders. And a strong social media presence on their company's Facebook page provides timely industrial information and job opportunities to more than 4,900 followers.
But the heart of Coastal Welding Supply's commitment to their community is education.
Since 2009, Coastal has provided scholarships to students enrolled in the Welding Department at Beaumont's Lamar Institute of Technology, and has employed many of their graduates. Young Texans have also benefitted from Coastal's contribution, beginning in 2014, to the Houston Livestock Show and Rodeo Scholarship Fund. Coastal Welding Supply team members continue to support area high schools, colleges and welding schools with equipment demonstrations, instructor seminars, welding competition judging and memberships in American Welding Society (AWS) area chapters.
When accepting the award, Mazoch shared," I am very proud to receive this recognition from AWS and WEMCO for our efforts to help promote the welding industry and the craftsmanship of the welder. Excellent opportunities are available to young men and women in the field of welding today!"
Other November 1 Connection Items: