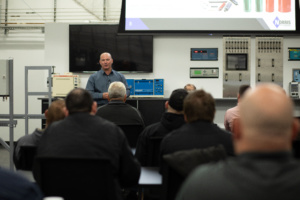 Weldcoa hosted a Cylinder Filling Operations Seminar at its brand new, full-functioning Innovation Center in Aurora, Illinois from October 8-10, 2019.
"For years now, Weldcoa has been hearing feedback from customers and fellow industry colleagues that there's just not enough quality training and education for our industry that addresses the needs of the aging workforce and loss of years of tribal knowledge, specifically on the operations side," says Melissa Heard, Director of Marketing for Weldcoa. "Weldcoa understood the urgency and importance of that issue and wanted to contribute and took the lead to address that need."
Along with that, it was important for Weldcoa to communicate a message of overall fill plant knowledge, not just filling equipment. To communicate that knowledge, Weldcoa asked a wide-range of industry leaders to join in that effort.
"We wanted to give the audience a head to toe fillplant overview training," says Heard. "Those fellow industry leaders were Chart, Nikkiso, Swagelok, Norris Cylinder, Fastest, Tuthill, Sherwood, Cyl-Tec and PDC Machines."
The aim of the seminar was for attendees to walk away with a better understanding of "why" things are done the way they are in our industry specifically. The goal was to have everyone leave smarter, safer and more productive. As Rich Craig, VP of Technical and Regulatory Affairs for the Compressed Gas Association recently stated, "Having well trained and knowledgeable people is critical to maintaining our industry's enviable safety record and is key to remaining self-regulated."
Feedback for the event has been outstanding and another seminar being held November 19-21 has already sold out. More classes will be available in 2020.
"On behalf of Weldcoa, Chart, Nikkiso, Swagelok, Norris Cylinder, Fastest, Tuthill, Sherwood, Cyl-Tec and PDC Machines, we deeply appreciate the participation and feedback we have received in this continuing education effort," says Heard. "We all see now just how thirsty our industry was for this type of tribal knowledge training. We look forward to offering more classes in 2020."
Other November 1 Connection Items: